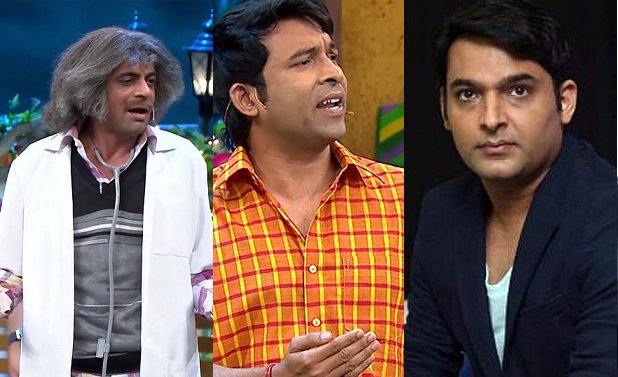 Things turned upside down for comedy king Kapil Sharma after his mid-air fight with good friend and ex co-star Sunil Grover. The Kapil Sharma Show (TKSS) started making huge headlines for all the wrong reasons and even, Kapil's childhood friend Chandan Prabhakar aka Chandu Chaiwala left TKSS. However, he is now back on the show and, his humour game seems to be full on. In the latest promotional video for TKSS, Chandan is seen joking about the controversial Kapil Vs Sunil fight.
The new promo, posted by Sony Entertainment Television shows Chandu surprising Kapil by visiting him on the sets of TKSS. The comedy king gets extremely happy and hugs his "bachpan ka dost" and, he asks Chandan how come he is here, he says that he heard that Kapil was hospitalised so came to ask what happened. Kapil says that he was low on sugar, to which Chandan quickly retorts, "Then you should have taken it from my house."
Taking a dig at the controversial mid-air fight, Chandu says "I had thought that after returning from Australia, I will post it after returning to India. But after we returned, pictures were already up in the newspapers. But Paaji, he has done everything in great heights be it".
In a recent interview Chandan spoke about his comeback to The Kapil Sharma Show. "We have been childhood friends and we have fought couple of times earlier as well. But now that we are working on a television show and have become popular, so our fight was talked about. We all fight in real life with our siblings and its ok", he said.
"The TRPs were affected due to the unavailability of some characters from the show. We all including me, Sunil, Ali have our own fan following. So when the characters played by us were not part of the show, it did result in the show not getting good response," Chandan Prabhakar added.
Read More
Who says I'm not shooting for TKSS? Bharti Singh rubbishes rumour, poses with Kapil Sharma
Super Night With Tubelight vs The Kapil Sharma Show: It had nothing new to offer, Twitterati express disappointment
For more Entertainment Stories, click here