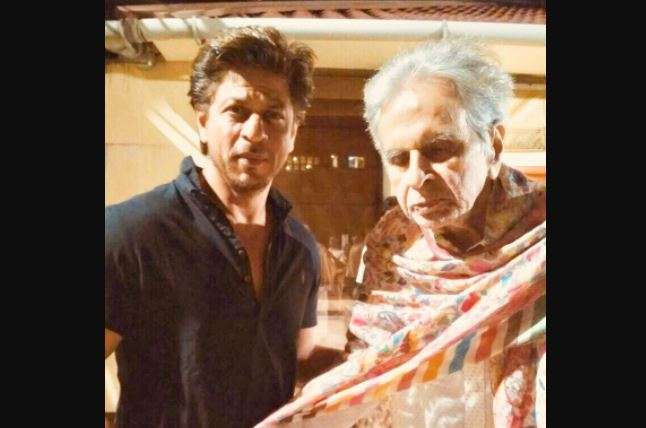 We all are aware of this fact that King Khan is the great admirer of legendary actor, Dilip Kumar, not only as an actor but also as a person. Shah Rukh Khan recently paid a visit to the 95-year-old actor to check on his health and share some warm greetings.
Shah Rukh Khan, 52, was photographed outside Dilip Kumar's residence, dressed in black. Entrepreneur Faisal Farooqui used Dilip Kumar's Twitter account to post a picture of both the stars together. "@iamsrk came to visit Saab at home today," read the tweet. 
While we were delighted to see two superstars share the frame and appreciated the bond that they share, our hearts wrenched to see a frail looking Dilip sahib. However, the picture also depicted that he is hale and hearty. Wearing a kurta and shawl, the Mughal-E-Azam actor held on to SRK's hand, hence giving a priceless moment that melted hearts on social media.
.@iamsrk came to visit Saab at home today. -FF pic.twitter.com/GLrnqu1Ln2

— Dilip Kumar (@TheDilipKumar) February 12, 2018
This is Shah Rukh Khan's second visit to Dilip Kumar's house in the last six months. He last visited Dilip Kumar soon after the acting legend was discharged from Mumbai's Lilavati Hospital where he was being treated for dehydration and kidney malfunction in August 2017. 
Message from Saira Banu: Sahab's mooh-bola beta-"son" @iamsrk visited Sahab today. Sharing some photos of the evening. pic.twitter.com/UHV8gzOB8v

— Dilip Kumar (@TheDilipKumar) August 15, 2017
2/ @iamsrk visited Sahab this evening. Sahab's doing much better since return from the hospital. Shukar Allah. pic.twitter.com/V2njs5swDM

— Dilip Kumar (@TheDilipKumar) August 15, 2017