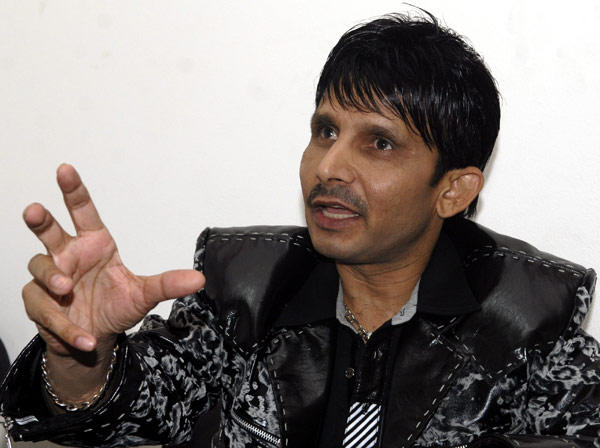 A day after Cinema Owners and Exhibitors Association of India (COEAI) announced that they won't screen "Ae Dil Hai Mushkil" which stars Pakistani actor Fawad Khan, controversial actor Kamaal R Khan today said that the ban on film is a result of conspiracy by some rivals.
Kamaal R Khan, who was earlier targeted by Ajay Devgn for promoting the Karan Johar directorial, took to Twitter to share his reaction. He wrote: "These cinema owners are cowards who are trying to harass film makers. It's a big conspiracy by some BJP darlings."
Ajay had earlier this year alleged that Karan paid Kamaal Rs 25 lakh to tweet positively about "Ae Dil Hai Mushkil" and to give negative reviews to "Shivaay", which he has directed and acted in.
Further, condemning the decision made by COEAI, Kamaal tweeted: "All officials of Cinema Owners and Exhibitors Association of India (COEAI) should be kicked on their a** if they will ever lift this ban again.
"Ban on films of Pakistani artists is only to stop release of 'Ae Dil Hai Mushkil' so that 'Shivaay' can get solo release and I think it's bad way to get solo release.
"If you trust your work and your film, then you don't need to stop release of someone's film to get solo release. Instead you should compete at box office."
The COEAI has over 400 members.
The decision comes amid India-Pakistan tensions following a terror attack which killed 19 Indian soldiers. The Indian Army then carried out surgical attacks on terrorist launch pads across the LoC.
Directed and produced by Karan Johar under his home banner Dharma Productions, "Ae Dil Hai Mushkil" also stars Ranbir Kapoor, Anushka Sharma and Aishwarya Rai Bachchan apart from Fawad.
The film is slated for October 28 release.
(With IANS inputs)