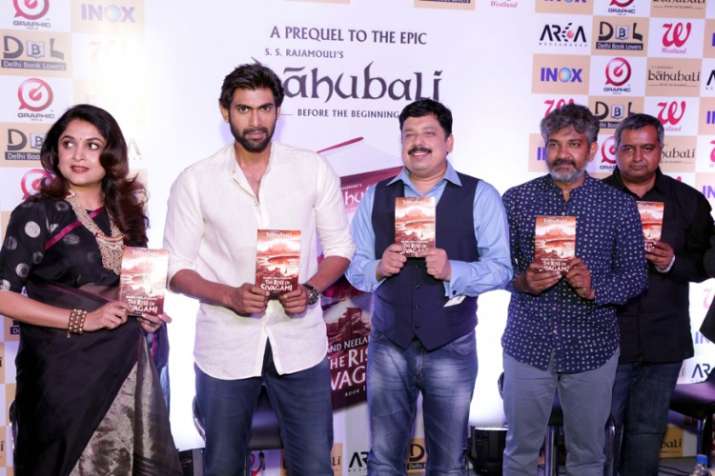 Author Anand Neelakantan unveiled on Friday his much-awaited book The Rise of Sivagami, a prequel to the blockbuster Baahubali, along with the film's director SS Rajamouli, its actors Ramya Krishnan and Rana Daggubati while hundreds of fans of the film lined up outside at INOX, Nehru Place, New Delhi.
The first book in the trilogy, The Rise of Sivagami tells the tale of the kingdom of Mahishmathi, revealing the childhood and history of Sivagami, the queen of Mahishmathi, and introduces us to the royal slave Kattappa.
The Rise of Sivagami is a befitting prequel to S S Rajamouli's blockbuster film Baahubali and set to create in the history of Indian publishing. Forty new characters and a self-devised vocabulary inspired from Telugu, Tamil and Sanskrit find their way into Neelakantan's historical fiction. Fans of the character Baahubali can take solace in the fact that the seeds of Kattapa's reasons behind killing Baahubali are sown in this narrative.
Anand's 'The Rise of Sivagami' – Book 1 of the Baahubali series, yet again creates a new genre in Indian mythology, with the potential to become the 3rd Epic after The Ramayana and Mahabharata in Indian folklore and culture. The intricate plot that takes one on a tumultuous and mind-boggling journey is a roller coaster emotional of twists and turns that mesmerizes your senses and leaves an indelible imprint in ones mind.
Commenting on this movie-to-book adaptation, author Anand Neelakantan said, 'Long before Baahubali, there was Sivagami. So even though the film is on Baahubali, but the backstory could not be any other hero other than Sivagami…the story is her journey that these three books will be dealing with. Another strong character is Kattapa, he gives colour to the book and is a very modern character.'
'What we managed to showcase in the film was just the tip of the iceberg,' said Director S. S. Rajamouli. 'From the minute I started working on this story, I knew the world of Baahubali can't be encompassed into a film or two, simply because there's so much more to tell. Books give the epic tale a new life and we're thrilled to be collaborating with Westland to bring this book to audiences.'