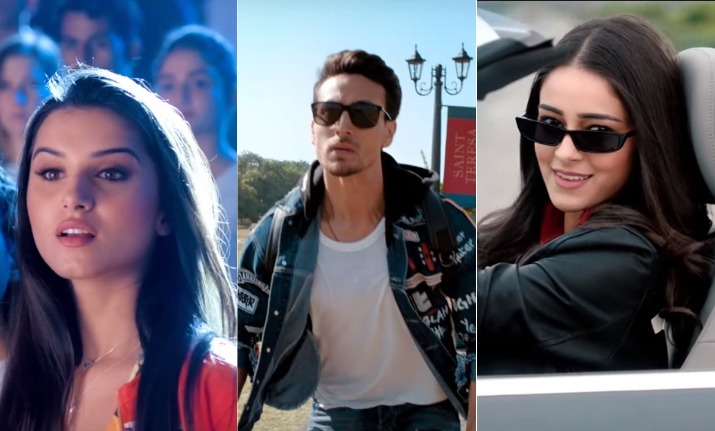 Student of the Year 2 trailer is here and it's everything we've expected. Following the suit of Student of the Year, this sequel also shrieks about luxury, pomp, glamour and lots and lots of blood (which wasn't there in SOTY). Tiger Shroff is seen in his usual avatar sporting a leather jacket and flaunting his washboard abs every time he flings his t-shirt. He is seen flexing his muscles in every 10 seconds, reminding us of his last offering Baaghi 2, which was a gigantic success at the box office. Coming to the leading ladies, Tara Sutaria seems to be getting more screen time than Ananya Panday, who happens to be a star kid (She is Chunky Pandey's daughter). Tara Sutaria is playing the role of a girl who dreams to achieve by winning St. Teresa's Dance competition. To wash away her high hopes, Shreya (Ananya Panday) is there. Shreya is a rich brat who drives her Lamborghini to the school, while Tiger Shroff prefers to cycle. 
Student of the Year 2: Meet the students Tiger Shroff, Tara Sutaria and Ananya Panday
As predictable the story can get, Student of the Year 2 has three good students and rest of the less important students competing against each other for the Student of the Year Trophy. The competition requires a lot of brainwork, sweat and surprisingly, blood as well. Tiger Shroff is seen getting thrashed blue and black by his fellow student who spares no opportunity to break his teeth. He is often looked down upon, but he sticks to his belief that, 'Din Tera Hai Saal Mera Hoga'. 
The most surprising element of the Student of the Year 2 trailer is the blood and fight involves. The trailer has left fans wondering which school allows its students to thrash each other for a trophy. Also, the uniforms are nowhere close to the uniforms. One thing that SOTY 2 trailer deserves full marks for is the pomp it has maintained so far. If you love a masala film with all the elements of romance, drama, fight, tears and what not, Student of the Year 2 is the best offering of the year for you, of course after Kalank.