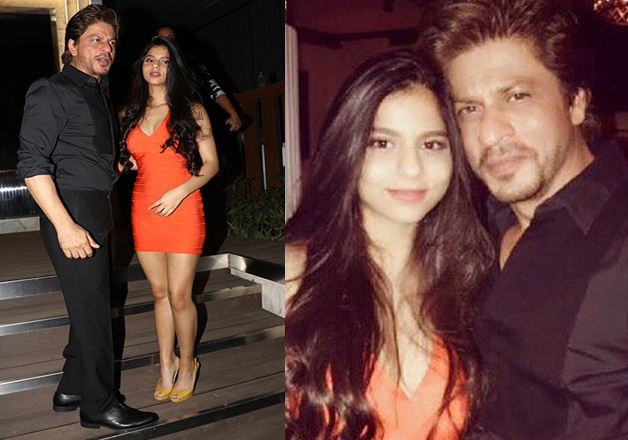 A day after Shah Rukh Khan was spotted posing with his daughter Suhana donning a tangerine Herve Leger attire at a restaurant inauguration event, designed by his wife Gauri Khan, SRK made a shocking statement for his kid Aryan. 
Although, Shah Rukh is a loving and doting dad, he sounds a little strict sometimes too. He wants his kids Aryan, Suhana and AbRam to stay in discipline. SRK is not a person who forces his kids for anything but he wants his kids to complete their studies before choosing any profession. 
Shah Rukh in an interview with DNA revealed that he would rip off his son Aryan's lips if he kisses any girl. He said, ''I'd rip off Aryan's lips. I can't rip off a girl's lips — that's not a charming gentlemanly thing to do. (Laughs) So, I will rip off Aryan's lips, on behalf of the girl's father. (Smiles) You can't touch or harm a girl.''
Interestingly, Shah Rukh earlier in an interview with Karan Johar on his show Koffee With Karan, has said that he would rip off the guy lips, who kisses his daughter Suhana.
Well this is surely very rude of him. Further, Shah Rukh talking about his kids revealed few unknown facts about his daughter Suhana. Shah Rukh said Suhana is the most soft-spoken person in the family. He also said that Suhana is quite passionate about acting and would like to choose it as her career. While talking about his son AbRam, SRK said that he is the most notorious kid and his little monster.
Shah Rukh said, ''Suhana wants to be an actress. I see that zeal in her. She's extremely good on stage, I've seen her performances. She's admittedly a cinema fan and wants to be in the industry. But my point is simple — you need to complete your education before doing anything. That's the only thing I have told my children. Otherwise, they are free to be in the film industry, not be in it and do whatever they like. I will be supportive of whatever they want to do. While Aryan has now grown up and is more macho, he's building his body and all, Suhana is more loving. I think she's the softest person in the house. And AbRam is my little monster.''
Shah Rukh while talking about his younger son said actually ''AbRam is more protective for me.''
And a fulfilling Father's Day at Arth designed by @gaurikhan pic.twitter.com/t371Qq4CFP

— Shah Rukh Khan (@iamsrk) June 19, 2017