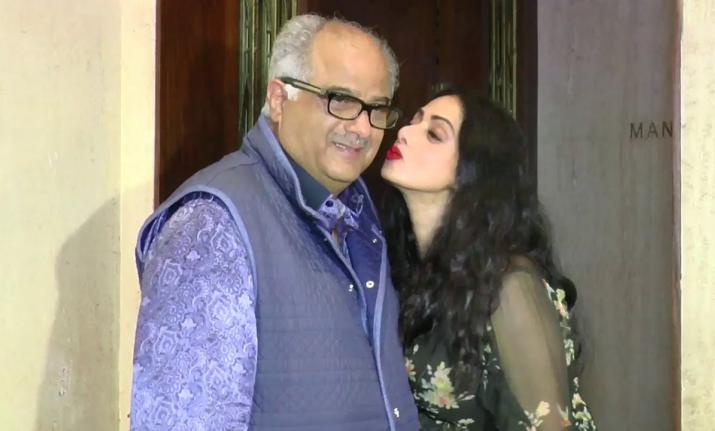 The fateful night of 24th February 2018 took India's first female superstar Sridevi away from us. She passed away as a result of accidental drowning following loss of consciousness. The untimely demise of Bollywood's Chandni engulfed the entire nation in grief, especially Sridevi's family. Her husband Boney Kapoor was devastated after coming terms of the reality and since then was under deep grief. 
However, finally film trade analyst Komal Nahta has claimed that Bollywood diva Sridevi's filmmaker husband Boney Kapoor has opened up to him about his final meeting with his wife, a surprise that turned into a tragedy. 
Komal Nahta has reproduced the conversation in a blog shared on his official Twitter page. Boney Kapoor gave a detailed account of what actually transpired on the evening of February 24, when he gave a surprise visit to Sridevi at the Dubai hotel. 
Nahta wrote, It was a surprise reminiscent of the one Boney had given Sridevi 24 years ago when they had freshly fallen madly in love with one another and were contemplating marriage." 
Boney said, "On 24th (February 24) morning, I spoke to her. When she told me, 'Papa (that's how she addressed Boney), I'm missing you', I also told her that I was missing her a lot. But I didn't tell her that I would be joining her in Dubai in the evening. Janhvi had seconded my idea of going to Dubai because she was scared, her mom, not used to being alone, would misplace her passport or some important document if she was alone."
Boney told Nahta that he booked himself for a 3.30 p.m. flight to Dubai on February 24, and reached the hotel where his wife was staying at around 6.20 p.m. Dubai time. After reaching the hotel, Boney surprised Sridevi and it made Sridevi's eyes twinkle and flushed with blushing cheeks. The couple then hugged and kissed, and chatted for around 15 minutes, Boney freshened up and suggested they go on a "romantic dinner".
Then Sridevi, who as he says, was in "relaxation mode", went for a bath. "I went to the living room while Sridevi went to the master bathroom to bathe and get ready," Boney was quoted by Nahta as having said.
In the living room, Boney told Nahta that he was watching the South Africa-India cricket match for few minutes followed by the Pakistan Super League cricket match highlights. After around 15-20 minutes, he was restless as it was around 8 p.m. then and being a Saturday, he felt restaurants would fill up.
Nahta wrote: "Boney's impatience made him shout out to Sridevi from the living room itself. After calling out to her twice, Boney lowered the volume of the TV set. Still no reply. He then walked to the bedroom and knocked at the bathroom door and even called out to her. The unsuspecting husband, hearing the tap inside on, then called out 'Jaan, Jaan' still louder but got no reply, which was unusual.
"He panicked and opened the door which had not been bolted from inside, nervous but yet not at all prepared for what he was going to see. The tub was full of water and Sridevi was immersed completely, from head to toe, inside the tub. Devastated, he reached out to her but watching her motionless, he feared the worst.
"Sridevi had drowned! Boney's world had come crashing down." The much-loved actress' sudden demise raised several questions. But as Nahta puts it: "Whether she first drowned and then became unconscious, or she first fell asleep or unconscious and then drowned, nobody will, perhaps, ever know. But she probably never got a chance to even struggle for a minute because had she moved her arms and legs in panic while drowning, there would be some water spilling out of the tub. But there wasn't a drop of water on the floor outside the tub area.
"The mystery will remain unsolved."
It was barely two hours after Boney surprised Sridevi — his "jaan" and mother of their two daughters Janhvi and Khushi — at Room No. 2201 at Jumeirah Emirates Towers Hotel here, that he faced the shock of her death, writes Nahta.