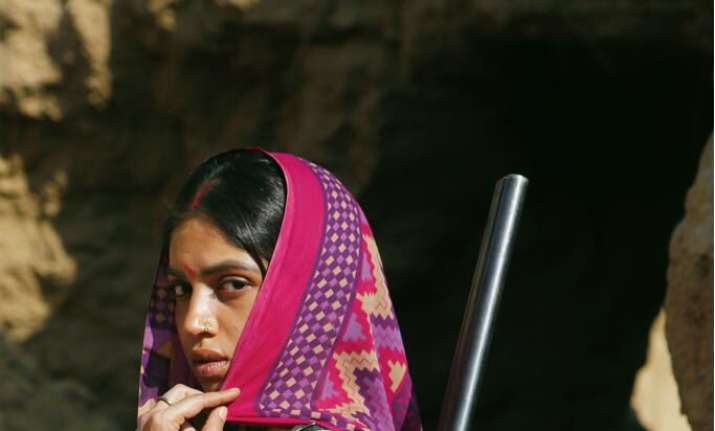 After Sushant Singh Rajput's look for Son Chiriya, new poster featuring Bhumi Pednekar is out. The actress, who was last seen in the Akshay Kumar starrer Toilet: Ek Prem Katha, looks fierce in the picture. Bhumi's look for the Abhishek Chaubey film was shared by the makers on social media, which caught everyone's attention at once. Dressed as a lady from rural India and holding a riffle, Bhumi is a combination of two contrasting visuals but looks promising all the way.
Taking to her Twitter account, Bhumi Pednekar shared her look for Son Chiriya. ""As we wrap up this unforgettable journey,Sharing a bit of me from this very special film  #AbhishekChaubey @itsSSR @BajpayeeManoj @RanvirShorey #AshutoshRana @RSVPMovies #MacGuffinFilms #HoneyTrehan #SudipSharma #Khushi #SonChiriya", she captioned the picture.
Son Chiriya revolves around Chambal dacoits and is set in the 1970s. This will be the first time Sushant and Bhumi will be seen starring together. 
The film also stars Ashutosh Rana, Manoj Bajpayee and Ranvir Shorey will also be seen playing pivotal roles in the film.
Sushant Singh Rajput recently shared the first look of Son Chiriya in which he can be seen as a dacoit. His transformation is striking and needless to say another spectacular performance is waiting for the cinema lovers from the actor's side. The actor will be seen in a totally different avatar. 
Sushant took to social networking site Instagram to share the picture. he captioed it as, "#Sonchiriya #सोन चिरैया."