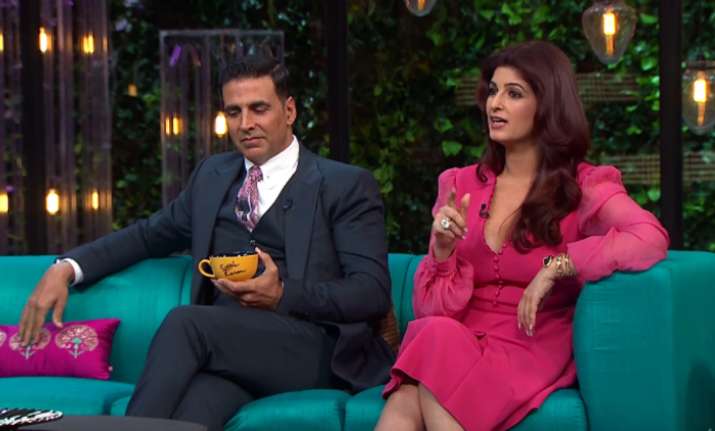 Karan Johar's popular show 'Koffee With Karan' has started off with a bang early this month with Shah Rukh Khan-Alia Bhatt being the first guests. A lot happened over the 'koffee' in the premiere episode that stars rocked the show with their sense of humours and candid chat.
But if thought that this was all about the show, then you must watch the second episode of 'Koffee With Karan season 5' which had Akshay Kumar with wife Twinkle Khanna sitting on the couch with KJo.
The premiere of the episode did give a glimpse of it being a true entertaining chat session, but it was a lot more than that.
From candid confessions to 'politically incorrect' statements to several revelations about her Bollywood career by Mrs. Funny bones Twinkle Khanna, the second episode had everything that will make you fall in love with KJo's chat show all over again.
Here we bring you some of interesting revelations made by Mr. and Mrs. Khiladi Kumar on 'Koffee With Karan':
1. Akshay Kumar and Twinkle Khanna are happily married for 15 years now and are often seen giving relationship goals to others. However, Twinkle accepted that she never intended to marry Akki at the beginning of their relationship. The actress stated that she had a failed long-term relationship and decided to have a fling with Kumar who was then known for his playboy image. But destiny had other plans for them. The relationship which was started off as a fling ended up in a successful marriage.
2. Interestingly, Akshay and Twinkle's wedding was actually an outcome of a bet the actress had lost. Akki was keen to marry Twinkle, however, she was hesitant as she wassure enough that her movie 'Mela'. The couple had a bet that Twinkle will marry Kumar if the movie tanks and that's what happened.
3. Not just Twinkle, Akshay had a hard time to convince his mother-in-law too. Mrs. Funny Bones revealed that her mother Dimple Kapadia was quite concerned about her relationship with Akshay as the veteran actress thought of him as a gay. It happened when Akki had visited Twinkle's house to ask for her hand from Rajesh Khanna and Dimple. But he eventually ended up giving acupuncture massage to one of Twinkle's relatives giving wrong signals to Dimple.
4. We all know Twinkle Khanna and Karan Johar are best friends forever. But the actress revealed that KJo had a crush on her during their teenage years, however, for a short period. Talking about the reason for Johar's attraction towards her, Twinkle said that it was because she used to have moustache at that point of time and testetorone of level 11, which was equal to any man.
5. The diva also spoke about the Lewis controversy which got her arrested. It's been a couple of years when Twinkle got into trouble for unbuttoning Akki's jeans during his ramp walk for Lewis. The incident created a stir and case was registered against Mr. and Mrs. Khiladi Kumar. To this Twinkle said, "Millions of people unbutton, unzip, take out their dangling bits, pee on the walls of the police station, but nobody arrests them. But I've been arrested. Mine is a crime of the century. I'm out on bail. 500 rupees bail!"
6. Not many are aware of the fact that Karan Johar wanted to cast Twinkle Khanna in 'Kuch Kuch Hota Hai' as Tina. However, the actress refused the offer and the movie went to Rani Mukerji and made her an overnight star. While Twinkle and Rani share a good bond, the actress credits herself for the success of Chopra Bahu. In fact, she often jokes KJo that KKHH became a hit because she wasn't a part of it