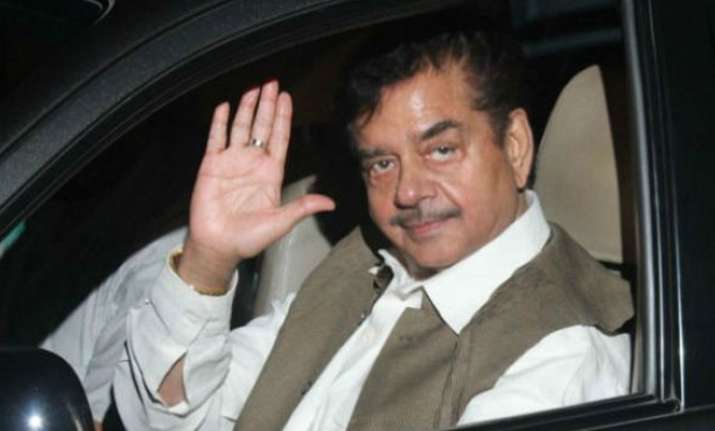 At a time when the entire nation is shocked at the recent "nepotism rocks" incident at IIFA Awards 2017, veteran actor-turned-politician Shatrughan Sinha spoke on the issue. He said that things such as nepotism are only for the sake of discussion. He spoke at the 10th convocation ceremony of Whistling Woods International Film School in Mumbai along with veteran director Shyam Benegal, institute's founder Subhash Ghai and his daughter Megha Ghai Puri.
Father of actress Sonakshi Sinha, Shatrughan said: "These (nepotism) things are only for the sake of discussion. This used to happen earlier, it happens now also and will continue happening in the future as well. I feel the audience will decide who is going to sustain in the industry."
"There are many star sons and daughters who have done really well while some of them haven't. So I feel it is not bad because if star kids have the required talent and aptitude, then we have no right to stop them. It doesn't mean that we are promoting them over talent outside the industry. It all boils down to talent, passion, result of their films and acceptance from the audience," he added.
Rumours were afloat that a biopic on Shatrughan Sinha is in the talks. On this, the Kaala Patthar actor said: "There are talks about my biography and some people are also interested in making my biopic. If anyone decided to do so, then it will be motivating, gripping and with lots of twists and turns."
Asked who is the best to enact him onscreen, he said, "All new talents like Ranbir Kapoor and Ranveer singh, are doing really good work. In our time Govinda and Anil Kapoor also did some really good work and I feel Amitabh Bachchan is the best and latest newcomer of the industry till now," the "Kalicharan" actor said in jest.
BJP leader Shatrughan proposed Amitabh Bachchan as the party's candidate for President. But Bachchan was not nominated.
"Now there is no scope and space, but I always think that there will be no better candidate than Amitabh Bachchan to be India's president as he has been successful in every possible front. He is one of the finest human beings and a well-experienced man. He is very popular and holds a really good image among people."
Talking about his daughter Sonakshi's film career, he said: "I feel in showbiz, art and culture, just like politics, there are no last moments. You can't grow as an artist if you don't have the passion for improvement in the long run. I am happy with Sonakshi's career. God has been very kind to her. But I want her to push the limits and do well in future also."
Asked if he plans to do a film in the future, Sinha said: "I have become a multi-dimensional personality. I have done cinema, television, politics and theatre as well. If anything interesting comes along which suits my stature, image and age then I will definitely do it."
(With IANS Inputs)
For more Bollywood updates, follow our Facebook page