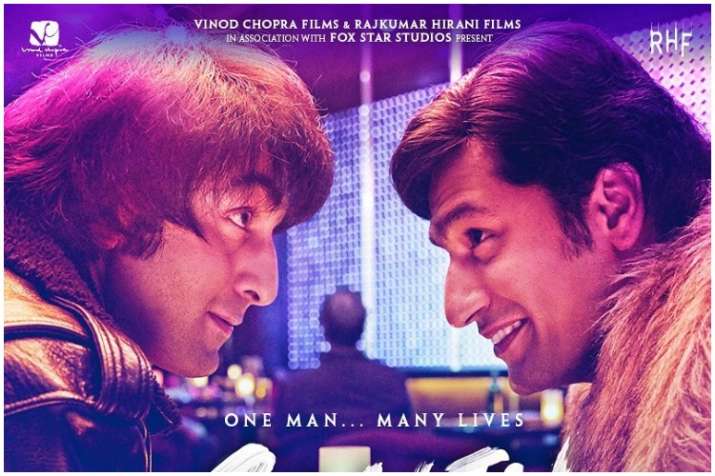 The much-anticipated Rajkumar Hirani film Sanju finally came out on July 29th and it was worth all the wait and excitement. With stellar performances by Ranbir Kapoor, Vicky Kaushal, Paresh Rawal, Manisha Koirala, Sonam Kapoor, Dia Mirza, Jim Sarbh and Anushka Sharma Sanju was the best way actor Sanjay Dutt's life could've been portrayed on screen. Sanju was a dream package of a talented cast, witty writing, and stellar direction. As a result, it was well-received by the public and was a sure success both commercially and in terms of good cinema. Sanju is not even a week old and has already grossed more than 120 crores becoming the film with the highest opening so far.
To celebrate this epitome of success, a bash was thrown wherein all the cast and crew of Sanju was invited. Some of them couldn't make it to the party including Sonam Kapoor, Vicky Kaushal, and Anushka Sharma. But being the charming and nice co-star Ranbir is, he made his best efforts into ensuring that nobody misses the celebration. Vicky Kaushal, who played his on-screen best friend Kamli couldn't be present at the party. Hence, Ranbir made his presence felt by addressing his contribution to Sanju over a video call. This sweet gesture was captured by Dia Mirza who played Sanjay Dutt's wife Manyata in the film.
Also see, Sanju success party pics: Ranbir Kapoor, Manisha Koirala attend, Dia Mirza arrives with husband https://www.indiatvnews.com/photos/entertainment-sanju-success-party-pics-ranbir-kapoor-manisha-koirala-attend-dia-mirza-arrives-with-husband-450675?type=featured
Actor Vicky Kaushal shared this memory on this Instagram handle, with the caption, "I'm miles away, but they made sure I be a part of the celebration. Team #Sanju you all are just too special. Love you all and miss you all so much. And RK meri jaan, my brother, I love you too, you are such a gem! @hirani.rajkumar Sir I feel so lucky to have worked with you. Thank You @diamirzaofficial for capturing this, you have my heart. @shaunagautam@ekalakhani @collindcunha and everybody in the team, Hugs and kisses!"
Sanju is out in theatres and continues to shine all over the country by winning hearts and praises as well as grossing high.