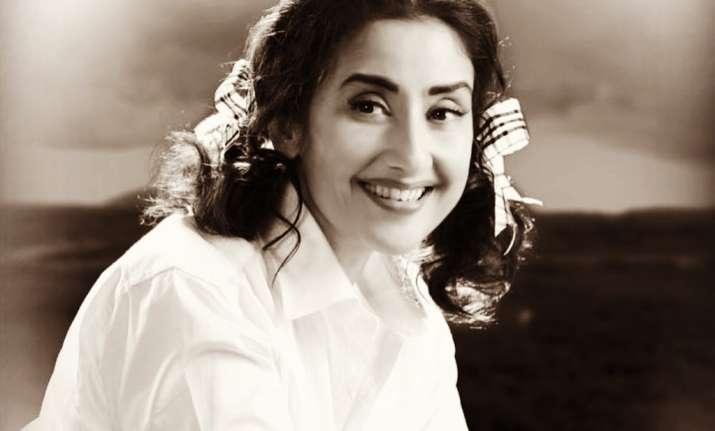 Manisha Koirala and Ranbir Kapoor have become most of the talking point of Sanju trailer for their uncanny resemblance to the real-life character they are playing. Ranbir is essaying Sanjay Dutt while Manisha Koirala will be playing the role of Sanju's mother Nargis Dutt. When the pictures from the sets of Rajkumar Hirani film leaked out, fans couldn't stop raving about the 1942: A Love Story actress who got into the skin of the veteran actress to nail her character. In the song Kar Har Maidaan Fateh, we got to see an extended sneak peek of Nargis Dutt's role in Sanju. Later on Monday, Manisha Koirala shared how the makers transformed her into Nargis Dutt, by going through many pictures and documentaries.
Sharing the picture, she wrote, "Many different looks were tried on.. through various photographs and books and documentary.. here are few for you guys.. peep in to what goes on to creat a look..amongst other things we tried many hair styles.. #sanju @hirani.rajkumar @vvcfilms @foxstarhindi #ranbirkapoor #manishakoirala."
Nargis Dutt, a renowned actress and Sanjay Dutt's mother
Nargis Dutt featured in many hit films like Mother India, Shree 420 and others. It was during Mother India she grew close to her now husband Sunil Dutt, who actually played his son onscreen. Despite being a strong, independent woman, she given up on her career to take care of her children. On the other hand, her children, Namrata, Priya and Sanjay were very close to her. She was diagnosed with pancreatic cancer and underwent treatment for the same at Memorial Sloan-Kettering Cancer Center in New York. After she returned to India, her condition deteriorated and was admitted to Breach Candy Hospital in Mumbai. On May 2, 1981 she went into coma and died the next day. Sanjay Dutt was devastated after mom Nargis Dutt's death.
Before leaving for New York for treatment, Nargis wrote a letter to Namrata to take care of Sanju (Sanjay Dutt). She wrote, "Please look after Sanju, see that he does not get mixed up with those silly boys again. He is too stupid in his head, he does not realise what he is doing and know it is going to hurt him."
Sanju is Rajkumar Hirani's biographical film based on the life of Sanjay Dutt. Ranbir Kapoor is playing the role of Sanjay Dutt while Manisha Koirala is Nargis Dutt in the film. Dia Mirza is playing Sanjay's present wife Maanyata Dutt and Paresh Rawal has stepped in as Sunil Dutt. The film is slated to release on June 29, 2018. The trailer and two songs of Sanju have been out lately.