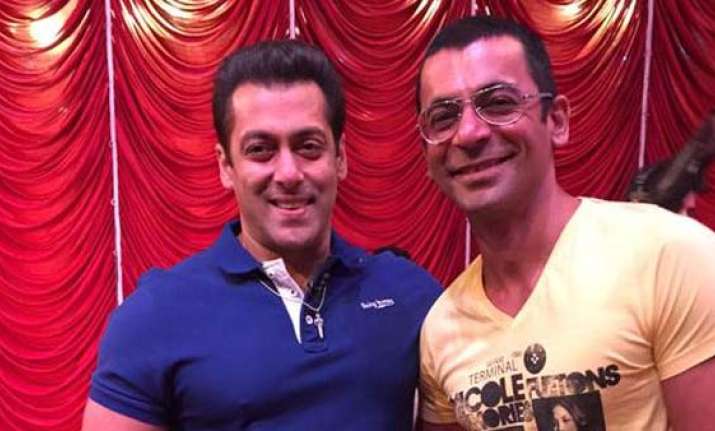 Sunil Grover is back with Super Night With Tubelight. Dabangg Salman Khan, who was mostly seen laughing out loud on the jokes cracked by Sunil earlier on The Kapil Sharma Show, has backed Dr. Mashoor Gulati instead of Kapil Sharma.
It is said that Sunil has formed a C-company along with Kapil's rivals and will come up with a new show soon. Meanwhile, Salman who is busy promoting his film Tubelight, preferred Sunil over Kapil and will be seen supporting him too.
Here are few highlights of Super Night with Tubelight:
Sunil, who was popular for portraying characters like Dr. Mashoor Gulati and Rinku Bhabhi on The Kapil Sharma Show, will be seen donning the character of Big B. Sunil will be seen mimicking Amitabh Bachchan in the upcoming show of Super Nights With Tubelight.  
Sunil to host KBCD:
In the coming episode of Super Nights With Tubilght, Sunil will be hosting KBCD, in which Salman and Sohail will be participating as a contestant. Sunil will be seen mimicking Amitabh and repeating his popular dialogues 'toh computer ko lock kiya jaye' in a funnier way. 
Glimpse of Salman's movie Maine Pyar Kiya:
Sunil's coming episode Super Night With Tubelight will also showcase few glimpse of Salman's film Maine Pyar Kiya. Comedian Sugandha Mishra will be seen mimicking actress Bhagyashree, and she takes Salman on a laughter riot. 
Sunil as Dr Mashoor Gulati:
In the special episode of Super Night With Tubelight, Sunil will be cracking jokes in his popular character Dr Mashoor Gulati. Sunil will also be seen doing operation of Tubelight star Salman in his show.
Fans might be happy to see the union of Salman and Sunil but it might prove a risk for Kapil's show.