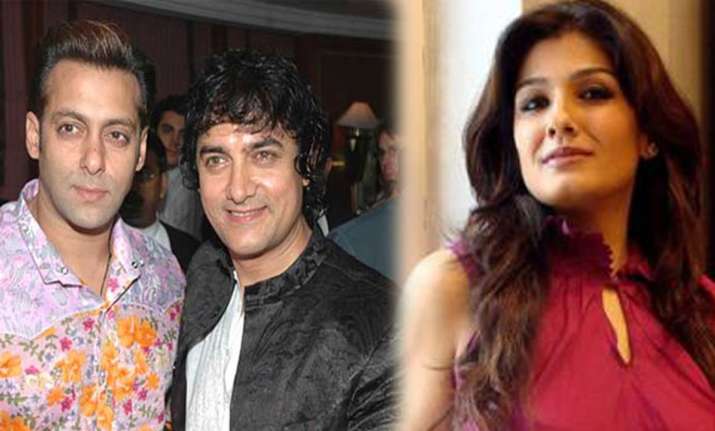 The issue of gender inequality in Bollywood is nothing new. The male stars have a longer lifespan and, are paid a lot more in the industry compared to their female counterparts. In such a scenario, Raveena Tandon had the most hilarious take on the ongoing debate.
The actress, who is all set to make a big comeback with her upcoming film Maatr, was asked about her popular film Andaz Apna Apna and, whether she would want to be a part of its sequel.
At this point, the actress took a friendly jibe at her co-stars Aamir Khan and Salman Khan for working with actresses half their age and even younger.
Also Read: I am not dying to work in films: Raveena Tandon
In an interview with BollywoodLife, the 42-year old actress said, "I would love to be game for it, but I know that my photograph is going to be hanging there. Aamir and Salman will be garlanding me and Lolo (Karisma Kapoor) and saying 'hamaari biwiyaan mar gayi, ab kya karein?' And then they will be running after 21-year-old heroines. So that's how the sequel is gonna start".
Even though in humour Raveena Tandon made a valid point of how gender inequality exist in tinsel town. Kudos to you!
On the work front, Raveena will be seen in Ashtar Sayed directed Maatr.
The film is an upcoming Indian revenge thriller, written by Michael Pellico and slated to release it on April 21.