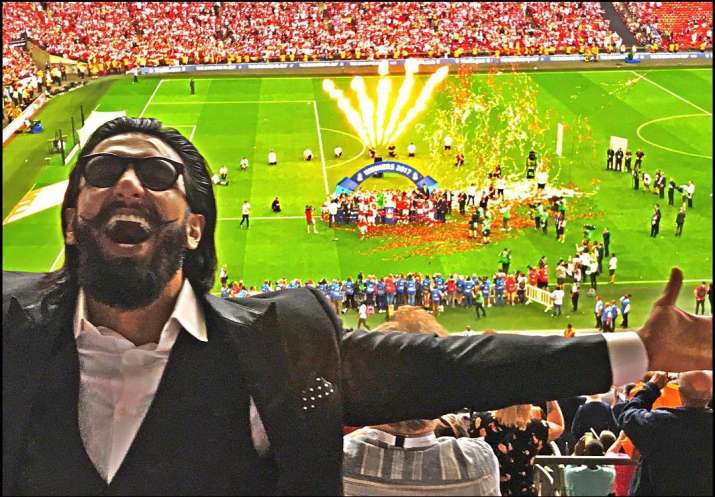 Actor Ranveer Singh's love for football is quite evident from his social media posts. Going by his Instagram pictures, the actor seems to be an ardent football fan. Thus, despite suffering from a head injury on the sets of 'Padmavati', he'll be flying to Cardiff next week to attend the finale of UEFA Champions League live. He's very excited to experience the finale live. Actor also expressed his love for football in a statement. He's been a football love since his childhood, he expressed. 
Also Read: Padmavati: After Sanjay Leela Bhansali assault, Ranveer Singh injures his head (in pics)
"I've been watching Champions League football since my childhood. As such, going to Cardiff for this year's final is like a dream come true. It's going to be amazing to witness the world's top two clubs battle it out for the ultimate glory," Ranveer said in a statement.
The finale will see Juventus and Real Madrid fighting it out on the field on June 3.
"I'm also very much looking forward to sharing this experience with football fans across the country. Can't wait," the actor and ardent football fan said during his promo shoot with the Sony Sports Cluster team.Even during an appearance on the "Extraaa Innings T20" show, Ranveer spoke about his love for football.
On the film front, the "Padmavati" shoot has been demanding and challenging for the actor. So, the trip will be a break from it -- a scheduled one at that.His spokesperson said: "Ranveer has been totally focused on giving his all to play Alauddin Khilji. Now that he has some time off, he will catch up on the Real Madrid vs Juventus UEFA Champions League match on June 3 and the India- Pakistan cricket match on June 4 in Birmingham.
"He always finds watching sports rejuvenating. He will take it somewhat easy for the next few days." He will immediately begin to shoot for "Padmavati" once he returns to India on June 8. 
(With IANS Inputs)