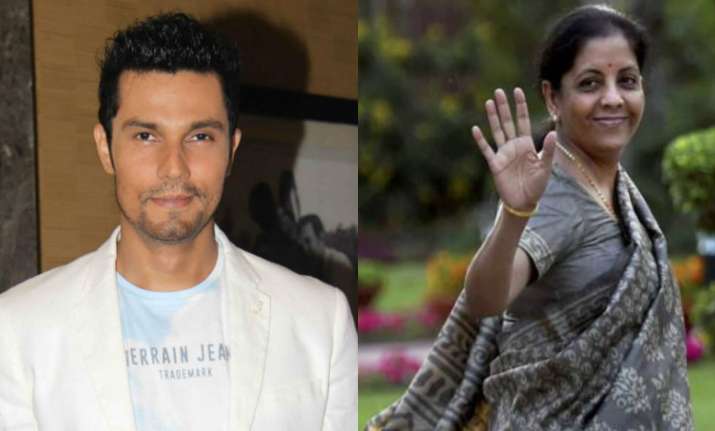 Bollywood actor Randeep Hooda who is known for his stellar performances in movies like Highway and Sarabjit has lauded the appointment of a woman as a Defence Minister. Actor marked it as one of the biggest signs of women empowerment.
"A woman Defence Minister is one of the biggest signs of women empowerment in any country," Randeep tweeted after cabinet reshuffle. Nirmala Sitharaman was named India's Defence Minister in a reshuffle-cum-expansion of his council of ministers carried out by Prime Minister Narendra Modi. She will be the second woman Defence Minister of India after former Prime Minister Indira Gandhi. She emerged to be the winner of reshuffle for bagging the heavyweight defence portfolio.
Meanwhile, Randeep who is a fitness freak amazed everyone with his massive body transformation for his lead role in Sarabjit. The 41-year-old actor shedded 18 kilos in just a month for the Omung Kumar directorial. Randeep who was last seen in Salman Khan starrer Sultan is prepping for his next historical movie Battle of Saragarhi. Helmed by Rajkumar Santoshi the movie is based on the Battle of Saragarhi that took place in 1897 between the British Indian Army and the Afghan Orakzai tribesmen, in the North-West Frontier Province which is now in Pakistan.
(With IANS inputs)