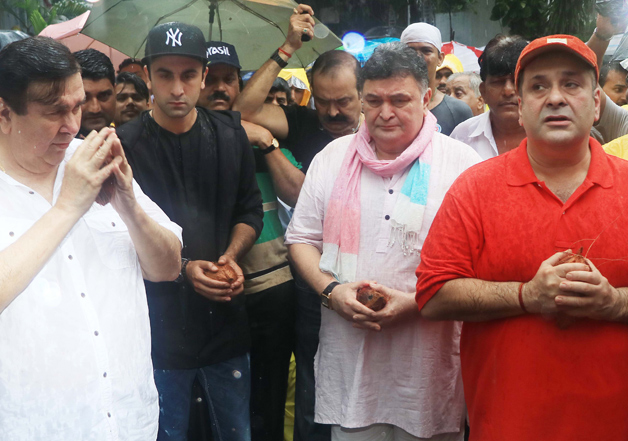 On Thursday, the 'Ganesh Visarjan' at the prestigious RK studios made it to the headlines for all the wrong reasons. Reportedly, the flag bearers Rishi Kapoor, his brother Randhir Kapoor and son Ranbir Kapoor lost cool on the media personnel present; with the son also slapping one of the journalists. Amidst all this rage during the event, Rishi Kapoor has defended his son by saying that he would not even hurt a fly.
The immersing of the Ganesh Idol from the RK Studios started at around 1:30 PM in the afternoon with the stars walking for a stretch of four kms. With rain pouring in and stars on the road, nothing less than mayhem was caused at the streets. With a monstrous crowd gathering and media trying to cover it, things reportedly went out of hand. The Kapoors, it is alleged, manhandled the media persons and also slapped a cameraman. It is also alleged that a senior journalist was pushed away from the cars of the stars.
A few videos from this incident immediately went viral with the renowned family of Bollywood drawing flak.
However, the statement from the Kapoors is in sharp contradiction to what has been reported. In an interview to a leading entertainment portal, Rishi Kapoor has said that it is unfair how the incident is being reported. Speaking about the tradition which he said is 64 years old, Chintu Kapoor said that they have no PR, neither did they call media. He said it is a tradition that people in thousands throng to see RK Studios' visarjan.
Ranbir Kapoor allegedly slapped a journalist at the event

Rishi Kapoor at the Ganesh Visarjan ceremony

Rajeev Kapoor at the ceremony
Rishi further said that rain added to the problems and with such a crowd it became impossible to not lose temper. Bashing journalists, Rishi reportedly said,
"When we are respecting God, these small time journalists poke the damn camera on your face".
Coming to rescue of his son Ranbir, Rishi said that with his presence everyone got excited which was understandable. He said that if there is a clip of him slapping a journalist, these people should show it.
"If I have indeed slapped them why don't you show the clip of me slapping? I was behaving like the Mumbai police, trying to monitor the situation. They say Ranbir hit them, Ranbir would not hit a fly, how would he hit them?"