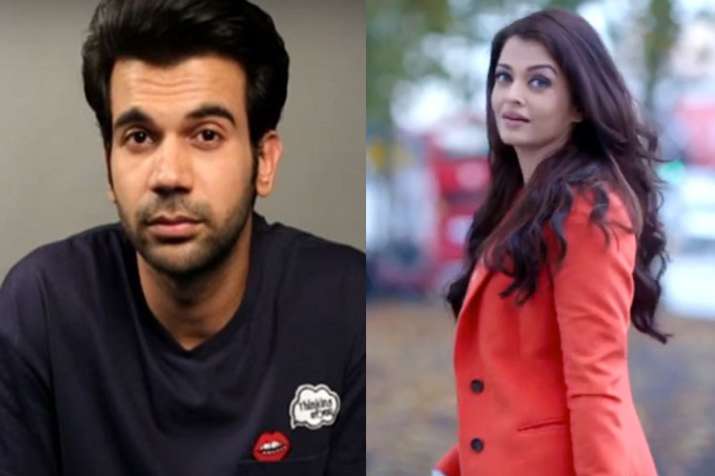 Actor Rajkummar Rao, who will be working with actress Aishwarya Rai Bachchan in Fanney Khan, has stated that he is nervous about romancing world's most beautiful woman in the film. The actor was present at the trailer launch of his upcoming film Shaadi Mein Zaroor Aana.
Rao was asked about his experience of working with Aishwarya for Fanney Khan.
"I haven't had the chance to shoot with her but had reading (script) and a few workshops sessions with her. There is a love angle between us (Rao and Aishwarya) which I am looking forward to but I am nervous for it, I will have to romance the world's most beautiful woman."
Rajkummar Rao's Shaadi Mein Zaroor Aana, a rom-com directed by Ratnaa Sinha and presented by Vikrant Studios, is based on marriage. The film is scheduled to release on November 10.
Also, in his previous film "Bareilly Ki Barfi", he played the role of 'a perfect bachelor'.
Asked if he is afraid of being typecast as a bachelor, Rao said: "I would love to play a bachelor all my life. I have no issues with being typecast as a bachelor."
Co-star Kriti Kharbanda, who was also seen in "Guest In London", spoke about working with Rajkummar.
"I love this man, he has been an amazing co-star and it was a very satisfying feeling to work with Rajkummar. I couldn't have asked for a better co-star".
Rajkummar was last seen in Newton by Amit Masurkar and "Bareilly Ki Barfi' with Ayushmann Khurrana and Kriti Sanon this year.
His future projects include Fanney Khan with Anil Kapoor, Aishwarya Rai Bachchan, 5 Weddings directed by Namrata Singh Gujral opposite Nargis Fakhri. He will also be seen as Subhash Chandra Bose in web series Bose Dead Or Alive.
(With IANS Inputs)