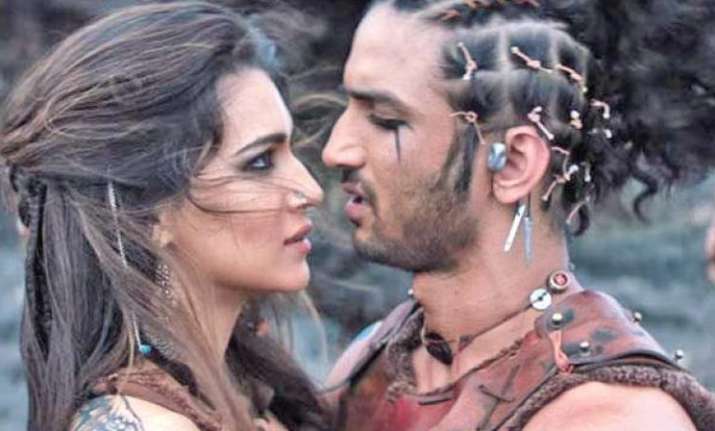 Raabta is a love story that transcends beyond the boundaries of time. The film narrates the story of two ordinary individuals whose lives were going on track until their paths cross. It features Sushant Singh Rajput, Kriti Sanon and Jim Sarbh in the lead roles. Deepika Padukone has also made a cameo in this film. Even before the release, it managed to garner a lot of publicity for the wrong reasons. The filmmakers of Magadheera slapped a case of  plagiarism against Raabta. The recent reports say that is has won the plagiarism case against SS Rajamouli's Magadheera. 
The movie has released on 9th June, 2017. Before the audience reactions started pouring out, our B-town celebrities couldn't hold themselves back. Many stars who were present at the screening of Raabta expressed their views on the flick. While most of them were positive, but KRK, as usual, seemed to be a bit off-track. 
Here is the glimpse of Raabta movie review by some of the B-town celebrities: 
Meri Pyaari Bindu actor, Ayushmann Khurrana is in an awe of the film. He explained 'Raabta' as a tale of unadulterated love. 
#Raabta is pure unadulterated love. @itsSSR is such a superstar material with immense range. @kritisanon is fab and an adorable revelation❤👌

— Ayushmann Khurrana (@ayushmannk) June 8, 2017
Umair Sandhu, a member of UAE censor board, gave the flick 4 out of 5 stars for being such an intense love story. 
Naaz Norouzi, an aspiring Bollywood actress and a Persian model got a bit emotional during the screening. Here's what she tweeted: 
Just came out of @RaabtaOfficial screening and I'm so emotional and speechless. What an amazing Film .. well done #dineshvijan #raabta ♥️

— Elnaaz Norouzi (@_iamnaaz_) June 8, 2017
RJ Alok praised Sushant Singh Rajput exclusively for his acting skills and throughout performance. 
There is a term Called Acting ,and other one is Throughout Performance, you fitting the 2nd one Brilliantly @itsSSR Superbbb #Raabta #RjAlok

— RJ ALOK (@OYERJALOK) June 8, 2017
Now comes the self-proclaimed movie critic who's seemingly not happy with any of the Bollywood films. He expressed his disappointment in a series of tweets as well as a two-minute video clipping. 
He went on calling the reincarnation drama completely 'Crap' and 'Waahiyaat'. 
He also slammed the lead actor Sushant Singh Rajput for his 'Over Acting Skills' in the movie, contrary to the fact that Sushant has always been acclaimed for his acting skills. 
Here's what he said in his review of the film. 
We'll be right back with our review of the flick 'Raabta' shortly.