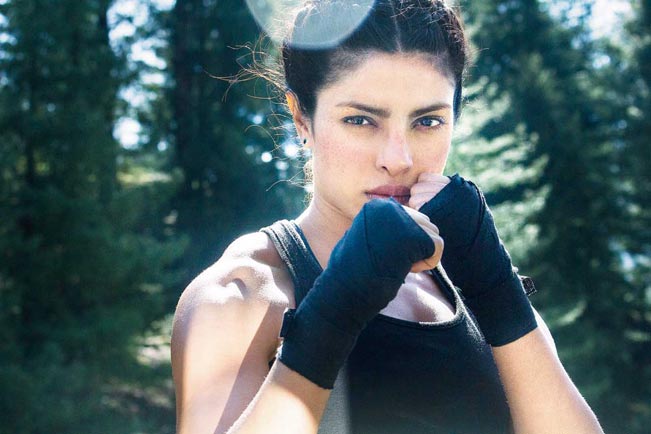 Actress Priyanka Chopra, who played the role of a boxer in MC Mary Kom biopic, may co-own the North-East franchise in the Super Boxing League (SBL). A source has revealed that the actress is in talks to join SBL and the official announcement will be made soon. This is indeed a great news for all PeeCee fans. Many stars have shown their interest in the boxing league.
"Talks are at the final stage and we are very keen on having Priyanka on board. She is one of the most versatile actors in Bollywood and her association with boxing will help us create the much-needed hype for Super Boxing League. We will soon make an official announcement for the same," a source from SBL told IANS.
SBL is marking the beginning of its first season from Friday by bringing in Bollywood celebrities as team co-owners for its franchises. Suniel Shetty along with Rana Daggubati of "Baahubali" fame are the co-owners of Bahubali Boxers, the team from South India.
Sushant Singh Rajput, for the very first time, will be entering the sporting arena as the co-owner of the home team, Delhi Gladiators.
Showing interest is also actress Sunny Leone, who will be rooting for her team OPM Punjab Sultans. Singer Kanika Kapoor will support her team UP terminators.
Actor Randeep Hooda and Sohail Khan have also been announced as the co-owners of Haryana Warriors and Mumbai Assassins respectively. Riteish Deshmukh will be seen promoting his native team, the Maratha Yoddhas.
With Priyanka, SBL hopes to add more Bollywood glamour. Bill Dosanjh, CEO and Founder of SBL, said: "We are overwhelmed by the response boxing has received from the Bollywood fraternity. It's no secret that Bollywood draws inspiration from sports every now and then.
"The stars joining us on this platform is an evidence of the immense potential in boxing. I am delighted to welcome each and every one of them to the SBL family. I am sure this combination of some of the exciting boxers and celebrities will give fans enough moments to cheer and enjoy the five weeks of action that Super Boxing League will bring to the Indian audience."
The event will take place at the DDA Badminton and Squash Stadium, Siri Fort Road, where the inaugural match will be between Haryana Warriors and Delhi Gladiators.
The chairman of SBL, Amir Khan stated that he is happy to see the excitement within the big Bollywood stars for boxing.
(With IANS Inputs)
Read more
Priyanka Chopra: Want to see more foreign film representation at Oscars
Social media trolling continues! Priyanka Chopra trolled on Instagram for getting a lip surgery again
For more Entertainment stories, click here