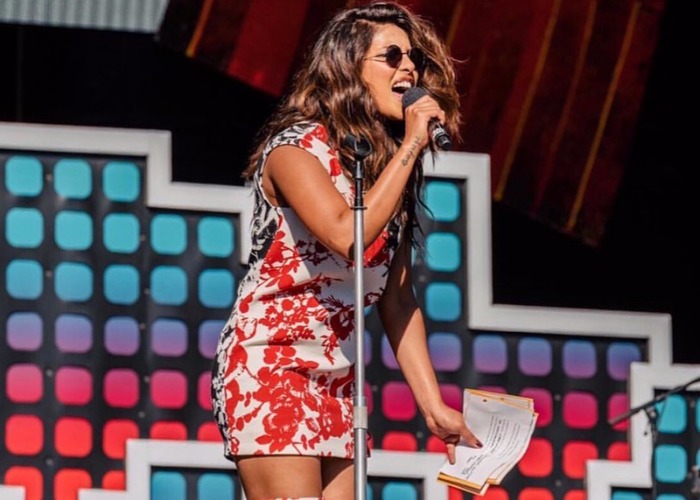 Actress Priyanka Chopra who made headlines for presenting Emmy's Awards this year also hosted the Global Citizen Festival recently. She wore a floral dress and paired them up with matching boots. She shared some memorable backstage moments with celebrities like Freida Pinto, Demi Lovato and Lupita Nyong'o. Wearing a red, white and black floral mini shift dress with thigh high boots, Priyanka looked excited about the festival. 
She wore her brown hair in loose curls. She wore a pair of round sunglasses for the event at the Central Park in New York, reports dailymail.co.uk. 
"I had the best time hosting Global Citizen. Proud to be a Global Citizen ambassador," the "Quantico" star posted on her Intagram page.
Before carrying out her duty as a host, Priyanka was seen wearing dark blue jeans and a white T-shirt with the Global Citizen Festival's logo on it.
Backstage, the actress mixed with fellow celebrity guests including Lupita Nyong'o and Michelle Monaghan, both wearing Global Citizen Festival T-shirts.
Singer Demi Lovato was also backstage, wearing a figure-hugging fuchsia coloured dress. Joining them was actress Freida Pinto, who also sported a Global Citizen Festival tee. She was flaunting a floral bomber jacket.
Priyanka Chopra posed for several photographs and posted them on her Instagram account. She shared the frame with actor Kal Penn, who was clad in a shark costume. The Global Citizen Festival is an annual one-day music festival held here in an effort to help end poverty and fight inequality.
This year's line-up included Stevie Wonder, Green Day, The Lumineers, The Killers, The Chainsmokers and Pharrell. 
(With IANS Inputs)