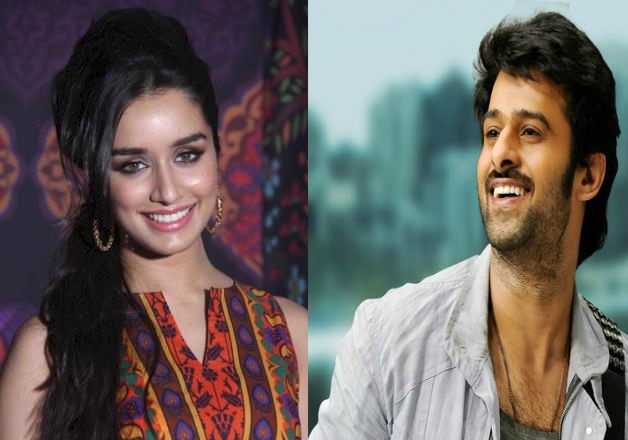 Prabhas, who received as many as 6,000 marriage proposal during course of SS Rajamoulis's Baahubali, has got an addition in his fan list and she is a pretty girl from Bollywood.
Earlier, during a promotional interview of Baahubali, Prabhas admitted that he admires Bollywood actress Deepika Padukone and said that he would like to work with her in a film.
But the confession of this Bollywood actress for Baahubali Prabhas is surely going to make you all feel jealous. Shraddha Kapoor recently during the promotions of her forthcoming film Haseena Parkar got engaged in a Twitter chat titled as #AskHaseena and replied to number of questions of her Twitter fans.
During the Twitter conversation one of Shraddha's fan asked her to describe Baahubali star Prabhas in one word, to which the Haseena Parkar star said, ''New blockbuster king.''
No, doubt Prabhas has charmed his fans worldwide and we completely agree with Shraddha's statement.
Hi everyone! I'm here! Sorry for being 5 mins late.. was dubbing for #HaseenaParkar. Here I ammmm #AskHaseena ❤️

— Shraddha (@ShraddhaKapoor) July 20, 2017
It is worthy to mention here that a report recently surfaced claiming that Shraddha was dropped from Prabhas next Saaho, due to her high fees demands. 
New blockbuster king #AskHaseena https://t.co/jze5kzAj1T

— Shraddha (@ShraddhaKapoor) July 20, 2017
Also Read: Shraddha Kapoor rejected from Prabhas's film Saaho as she demanded Rs 8 crore fees, say sources
A source revealed that the makers said, ''Shraddha was our first choice. She heard us out and was almost jumping with excitement during the narration. Then, she quoted a price that had the team running out of her residence as fast as possible. She wanted Rs 8 crore. We were shocked. We don't pay that kind of money to actors in Telugu cinema. But she wouldn't budge. She was like, 'I love the script and I'd love to work with Prabhas. But the price remains unchanged.''
For more entertainment updates follow our Facebook page