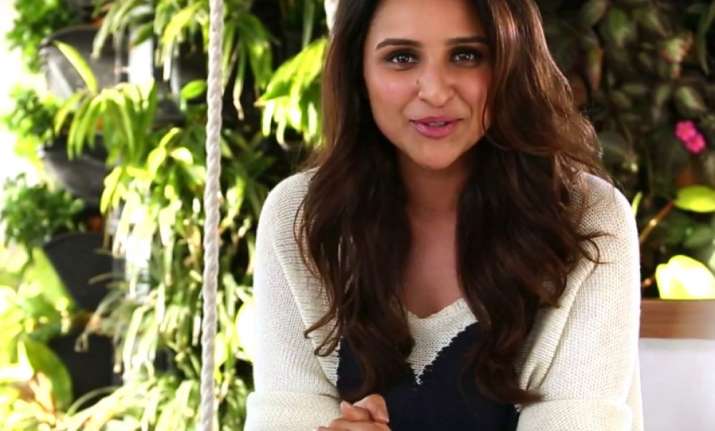 Actress Parineeti Chopra, who made her debut opposite Arjun Kapoor with Ishaqzaade recently narrated her story of her childhood struggles and her eve teasing experiences saying that her family was not rich at that time. Now, the actress' former classmate Kkanoo Gupta has slammed her on social media for her fake story.      
Kkanoo, who claimed to be Pari's classmate lashed out at the actress saying that she has created a fabricated sob story. 'Lying through the teeth in front of camera', that was the person's exact words. The post by Kkanoo has gone viral.
Recently, Parineeti was invited to an event by Akshay Kumar. There, she revealed that during the school time her family was not rich. So, she had to go to school by cycle and she also became the victim of eve teasing.
He wrote, "Coming from the same school I probably also remember the car her father used to have. And going to school on a cycle was a trend those days and also a privilege not everyone had. My friends from CJM (Convent of Jesus and Mary) would probably understand the lies a bit better (sic)."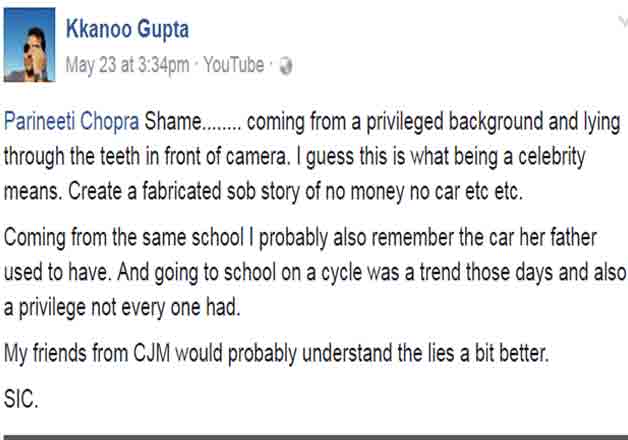 Priyanka Chopra's cousin Parineeti has reacted on the whole issue through a Twitter post.Previously, Shahid Kapoor's wife Mira Rajput was also slammed by her batchmate for puppy comment on Misha.
My statement 🙏🙂 pic.twitter.com/U3mwLUJ0So

— Parineeti Chopra (@ParineetiChopra) May 30, 2017
Being a public face is a huge responsibility. People like to hear Rags to riches stories of famous people. But, in order to sound inspiring, sometimes celebrities forget that in this era of social media it is easy to get caught.