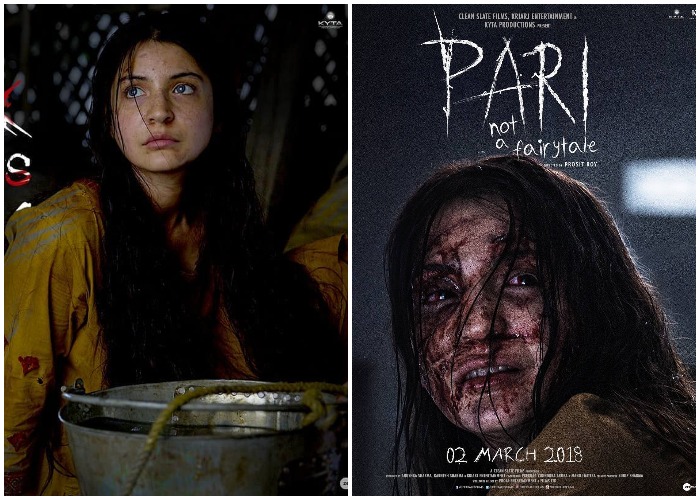 Anushka Sharma's Pari is making the headlines for all the right reasons. The nerve-racking trailers and teasers have become the talk of social media. It is being predicted that Pari is going to be the horror film Bollywood has never seen before. But do you know how this beautiful actress Anushka Sharma transformed herself into someone as piteous as Rukhsana? The actress herself will tell you through this video.
On Wednesday, Anushka Sharma shared a video on her social media accounts, featuring how she transformed into Rukhsana for her role in Pari. To get Anushka's look agreeable in the film, the makeup team used prosthetics and the makeup techniques to make her look the way she does in Pari's teasers and trailers.
Clover Wootton, Anushka Sharma's makeup artist for the film Pari, narrated how she worked on such a beautiful actress and converted her into hideous looking Pari as well as a helpless Ruksana. Explaining her experience working with Anushka Sharma, Wootton said, "I had met Anushka on another film while I was working with Ranbir and she liked my work and gave Prosit (director Prosit Roy) my number. The first thing for us was to strip her white out, no make-up, to see how she looks naturally, for which I'm so lucky she's got amazing skin."
Prosit Roy, who is debuting in Bollywood with Pari, was also impressed with Wootton's work on Anushka. He said, "On the day of the look test when I saw Anushka... I was like 'wow'."
Ever since Pari's first look was revealed, Bollywood buffs can't stop raving about Anushka Sharma's upcoming horror film. Her dead, blue eyes like crucibles scared the living daylight out of every viewer.
Pari is Anushka Sharma's third production venture after NH10 and Phillauri. In Phillauri, she essayed the role of a friendly ghost. However in Pari, Anushka plays a ghost minus the friendliness. According to Prernaa Arora, the co-producer of Pari, no other Bollywood actress has played such a chilling character as Anushka Sharma in the film. Pari is slated to release on March 2. As she said, this Holi, be safe!