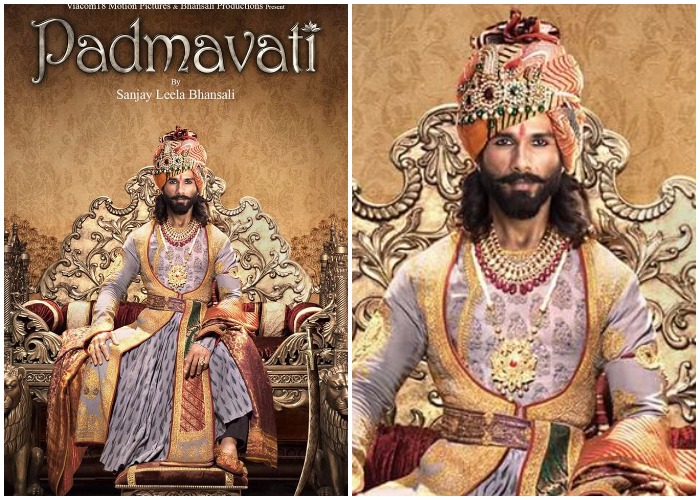 There isn't any need of publicity and promotions for Sanjay Leela Bhansali as the film is already hogging headlines for its controversies and rows. Deepika Padukone, Ranveer Singh and Shahid Kapoor-starrer film has been marred by controversies ever since the project was announced. But on the brighter side, it caught eyeballs of millions for its magnificent trailer and not to forget, Deepika Padukone's graceful moves in Ghoomar song. The song is already topping the charts, having managed to get 10 million views in less than 24 hours of release!
Now fans' eyes are set on the release of next song 'Ek Dil Ek Jaan' which is scheduled to release on Saturday. Lead actors Deepika Padukone, Shahid Kapoor and Ranveer Singh shared the news on social media with a short video, which is rather making the wait difficult. Have a look.
The lyrics of the song go on like this 'Mera pyaar bhi tu, ishq bhi tu... Meri baat, zaat, jazbaat bhi tu'. We're looking forward to see this oven-fresh Jodi Deepika-Shahid in the video of this new song.
The makers are leaving no stones unturned to create a buzz about Padmavati. They released one poster at a time with the onset of Navratri festivities. Three posters revealed the looks of all the three lead actors. The extravagant trailer swept us off the feet and now another poster has been dropped leaving viewers awestruck.
This poster shows Shahid Kapoor in Maharawal Ratan Singh avatar and guess what, he's looking regal as anything. In no time the poster went viral on internet. Check out Shahid Kapoor's laterst poster from Padmavati:
HD PIC of #MaharawalRatansingh 😍 Royal King 🔥 #Padmavati pic.twitter.com/3vq3Oly4xp

— Shahid Kapoor Website (@ShahidWebsite) November 10, 2017
Another song from the movie 'Khalli Balli' is expected to be out soon. Meanwhile, wait for the romantic track Ek Dil Ek Jaan to release today. Stay tuned for more updates on Padmavati. 
Check out the posters of Padmavati released so far.