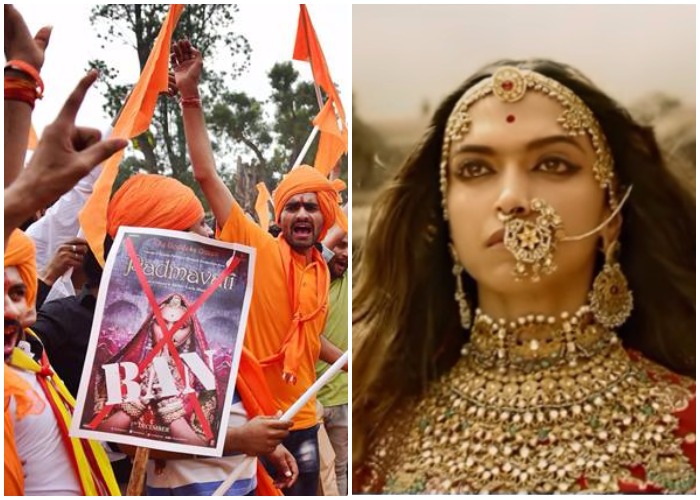 Padmavati has been marred by controversy ever since the announcement of project. It's now less than a month left for the Sanjay Leela Bhansali film to release, but there's no sign of peace among the protesters. As the release date is progressing near, the protests are growing more aggressive. Recently, Karni Sena threatened actress Deepika Padukone to cut her nose just like Ramayan's Shurpanakha if she doesn't stay the release of Padmavati.
The Shri Rajput Karni Sena announced a Bharat Bandh on December 1 if Sanjay Leela Bhansali doesn't stay the release of Padmavati. Maharashtra government has provided a precautionary security cover for the filmmaker citing the aggression of protesters.
"We will hold rallies across the country, including Gurugram, Patna, Lucknow and Bhopal before the release date," Lokendra Singh Kalvi, founder-patron of the Shri Rajput Karni Sena, an organisation of the Rajput community, told media persons in Jaipur.
He also dubbed Deepika Padukone as a 'naachnewali' and slammed her for making the 'regressive' remark on the country. The RKS patron also claimed that Padmavati is financed by underworld to sabotage Indian cultural heritage. 
While Sanjay Leela Bhansali is facing the ire of self-styled experts and various religious groups, film fraternity stands in support of the filmmaker. The Indian Film and Television Directors' Association (IFTDA) has thanked Maharashtra Chief Minister Devendra Fadnavis for providing security cover to Sanjay Leela Bhansali who lives in Mumbai.
Meanwhile, Rajasthan State Commission for Women chief Suman Sharma, urged CBFC chief Prasoon Joshi to screen the movie and ensure there was no attack on the dignity of women in the film. She also demanded that women from the Rajput community should also be included in the screening of the movie.
Earlier, the Supreme Court dismissed a plea to hold the release of the film.