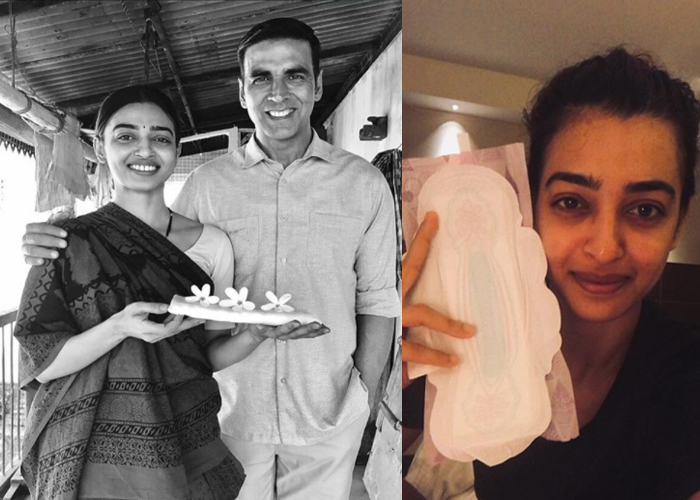 Actress Radhika Apte, who made her Bollywood debut with Varun Dhawan starrer Badlapur will soon be soon in an unconventional character in PadMan. Akshay Kumar's film PadMan is based on the life of Tamil Nadu-based social activist Arunachalam Muruganantham (played by Akshay Kumar), who manufactured low-cost machine for sanitary napkins in rural India.  
Radhika who will be seen essaying Akshay's wife in PadMan in an interview with indianexpress.com talked in detail about the film, the subject and the social stigma associated with the menstrual hygiene. 
Radhika said, "The menstruation taboo is ancient and there are so many theories about it. For some, it is fear of blood and for some period blood is toxic. If you read the theories about menstruation you might even laugh."
Talking about the subject of the film Radhika said, ''There are three things for which we made this film. First, it is an incredibly inspiring story that needs to be told. Second, if we can make people talk about periods, that would make a lot of difference and third, it's high time that people understand that menstrual hygiene is of utmost importance. Bacteria thrive on period blood and if you do not use a clean material you can get different kinds of infections and it is extremely dangerous for health."
Radhika highlighting the menstrual hygiene issue and lack of awareness about it said that the society is responsible for it to much extent. She said that men and women generally feel uncomfortable to talk about it openly. 
She said, "Men don't talk about things. Women do not talk about things. It is what goes into society. It's not only about women or men, it's about how we have been living in the society. Men and women are sometimes equally responsible for this. Daughters are told about periods by their mothers. But that's because a father is very uncomfortable talking about it. Why don't fathers talk about it? Why can't he say that 'you will get your periods' or why can't both, mother and father talk about it together?" 
PadMan also stars Sonam kapoor and is slated to release on February 9.