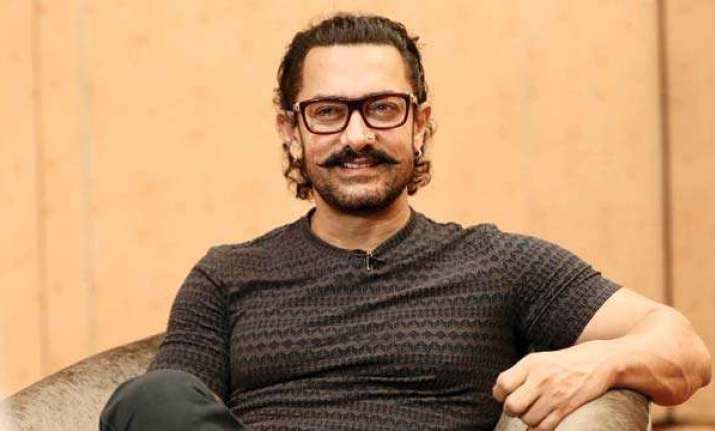 Aamir Khan, 52, was recently seen in Advait Chandan movie Secret Superstar in which he played a quirky role. The superstar who has back-to-back blockbusters to his credit don't let his fame dominate him. In an interview, the actor said that he never felt like a superstar and just enjoys his work.
"I dont feel I am a superstar. That feeling doesnt come to me. I feel I am a person who loves what he is doing (referring to acting). I really enjoy it. I dont take superstardom seriously," Aamir said in a media interaction."At times I've to work a little hard to move it out of the way, so that I can do the work properly," he added. Citing an example, the Dangal actor said he came up with a plan to shoot for wife Kiran Raos Dhobhi Ghat, despite the latters apprehension on pulling it off.
"Kiran wasnt taking me in Dhobhi Ghat because of that (stardom). She said how she would shoot on location with a crew of only nine people, where your 15 body guards will come! I said leave that to me. I had to remove my stardom out of my way because it was coming in the middle of the film." Released in 2011, the indie-drama was Raos directorial debut. The film, which garnered critical acclaim, featured Aamir along with Prateik Babbar and Monica Dogra. The movie was filmed on real locations across Mumbai. "When I was shooting on location, my house in the film was in a market area, which is extremely crowded. I went there at 3.30am, one day before the shoot started. Everyone was sleeping. 
I went inside the house and stayed there for three weeks. I didnt come out at all," he said. Aamir revealed he even conducted meetings of two of his blockbuster films - Ghajini and 3 Idiots- inside the washroom of the room, where he was shooting for Dhobi Ghat."Nobody knew I was inside the chawl, there were no bodyguards too. So all my meetings had to be there only. Ghajini was on release and Rajkumar Hirani and I were planning 3 Idiots. There was only one room, and since the shooting was going on there, my meetings with Ghajini director A R Murgados and his team used to happen in the bathroom! "The entire marketing team of Ghajini used to sit in the bathroom and work. Raju (Rajkumar Hirani) used to come with his team there too. I used to go near the window only during nights, put a curtain and switch off the lights. Nobody could see inside that well," Aamir said. 
Aamir's Secret Superstar had a decent opening and minted Rs 4.75 crore on its first day. It further went on to rake in Rs 41.16 crore by the end of its first week.
(With PTI inputs)