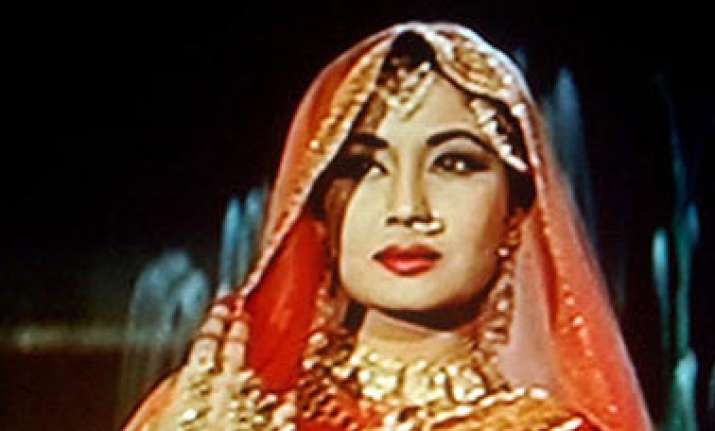 August 1 marks the 85th birth anniversary of the remarkably intriguing and legendary actress Meena Kumari. Fondly known as the tragedy queen-an artist who specialises in tragic roles, her life was filled with sadness both onscreen and off screen.  Right from early-life struggles to failed relationships, Meena Kumari was indeed a tragedy queen in true sense.
Born as Mahjabeen Bano, the actress faced a poverty-stricken childhood and had to support her family in her early years. Despite her early struggles, she had quite a few successful Box Office hits by the early 60s such as Parineeta Phool Aur Patthar, Dil Apna aur Preet Parayi and Dil Ek Mandir. 
Click Here to Read Meena Kumari Birthday Special Story in Hindi
Meena Kumari, who won 4 Filmfare Awards, was also a prolific poet and penned an album titled I write, I recite with Khayyam. She is the only actress in Hindi film industry to have received 3 Filmfare Awards nominations for the Best Actress in the same year. The nominations Sahib Bibi Aur Ghulam, Main Chup Rahoongi and Aarti. She won the National Film award for Sahib Bibi Aur Ghulam.
On her 85th birth anniversary, here's a flashback of some of the haunting melodies that were picturized on the beautiful lady.
O Raat Ke Musafir
Meena Kumari was left at a Muslim orphanage by her father Ali Baksh since they were unable to pay the fees of the doctor who had delivered her. Later, after few hours, she was picked back by her father.
Koi Bata De Dil
Meena Kumari almost drowned while shooting for a sequence in 'Baiju Bawara'. It took a long span of 14 years to complete Pakeezah.
Since Meena Kumari grew quite old and frail for a dance number, Director Kamal Amrohi made Padma Khanna dance on her song with a 'Ghunghat' on her face. 
Ajeeb Daastan
Na Jaao Saiyaan
Meena Kumari's mother was a hindu and Her name was Prabhavati Devi. She converted to Islam after marriage and renamed herself as Iqbal Begum.
Ruk Ja Raat