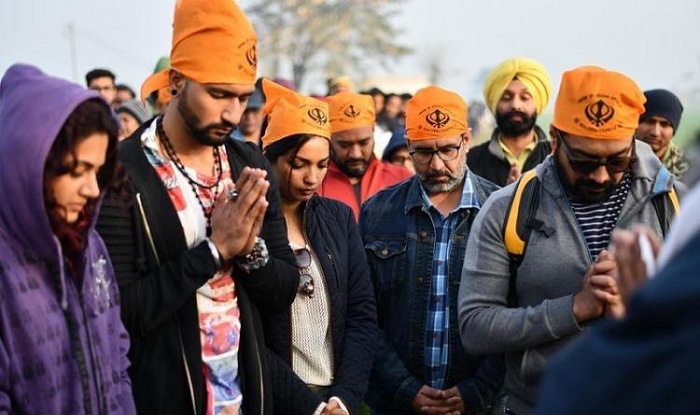 Anurag Kashyap recently shot Manmarziyan in the scenic landscape of Kashmir. The cast of the film, which included Vicky Kaushal, Taapsee Pannu and Abhishek Bachchan shared many pictures on their social media accounts giving us a glimpse of the beauty. However, it seems that the Kashmir leg of the shoot has brought trouble for the makers.
Last week, locals of Sonmarg raised a hue and cry over Manmarziyan being shot in Thajiwas glacier, which is a prohibited area. Now, the team has been slapped notice by the Jammu & Kashmir Tourism Board, asking makers to explain how they got permission to shoot in the area. Actually, Sonmarg Development Authority has banned vehicle in the eco-sensitive zone after an order by the High Court. Board has asked makers to revert in a week on how they gained permission to shoot in the stretch. 
A PIL has also been filed by a local environmentalist Faiz Bakshi, who claims the rules have been overlooked for the April 18 shoot. ''The area is a gated property. So obviously, someone higher up allowed that entry. This is a lapse on the part of the local administration. There are five departments required [in granting permission] — the District Magistrate, Department of Tourism, Sonmarg Development Authority, Department of Wildlife Protection in Kashmir, and the cops. I won't say the filmmaker is not to be blamed, but the unit couldn't have done it by themselves,'' Bakshi told Mid-Day.
When Aanand L.Rai's Colour Yellow Productions was asked about the same, they maintained that shooting was conducted after gaining proper permissions from the Department of Tourism and Department of Wildlife Protection in Kashmir. ''We were sensitive about shooting there, and followed all the terms and conditions put forward to be allowed to shoot there,'' the production house told the daily.
Manmarziyan is a comeback movie of Abhishek Bachchan. The flick is slated to release on 7 September.
For all latest news, keep checking our Facebook page