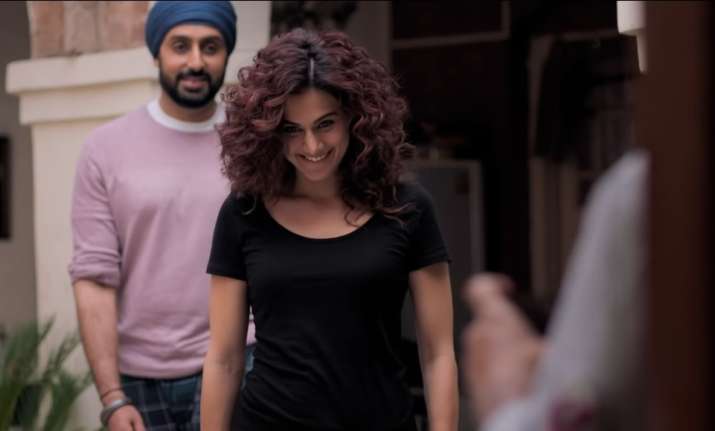 Abhishek Bachchan's upcoming film Manmarziyaan just dropped another track from its music album, titled Chonch Ladhiyaan on Wednesday. In the video, we can see the chemistry between Abhishek Bachchan and Taapsee Pannu, who are playing on-screen married couple in this Anurag Kashyap-directorial. The song beautifully documents how new bride Rumi begins to bond with her husband Robbie.
In the song, Robbie asks Rumi, "Pyaar karti ho mujhse?" to which she replies, "Ho jayega pyaar achche to lagne lage ho aap". This adorable conversation between the couple is relatable to every couple who has been hitched in an arrange marriage setup.
Chonch Ladhiyaan is voiced by Harshdeep Kaur and Jazim Sharma. Composed by Amit Trivedi, the song is here to win hearts. Vicky Kaushal, who's playing the role of Rumi's former lover is also seen in the song but in the end.
Manmarziyaan is written by Kanika Dhillon and directed by Anurag Kashyap. It is a love story between Rumi and Robbie, who are brought together by the institution of marriage. The song is depiction of how Rumi grows fonder of her husband Robbie after marriage.
Also, Manmarziyaan marks Abhishek Bachchan's comeback to silverscreen after a hiatus of two years. Last he was seen in Housefull 3. Talking about him, his co-star Taapsee Pannu told PTI, "Abhishek will sometimes be sure, sometimes unsure of things but you need strength to survive all the ups and downs. Then to take a break to sort things out and return with a film like Manmarziyaan. It is not a conventional heroic film for him to do. It is very brave and he is strong as a person to do that. It requires courage."
Clashing with Love Sonia, Manmarziyaan will hit the theatres on September 14.