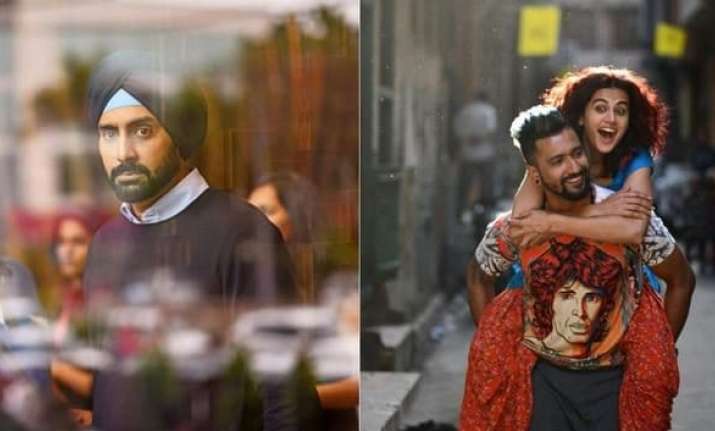 Anurag Kashyap's first romantic drama film Manmarziyaan has just hit the theatres. It's the first time the maverick of Indian cinema has forayed into the romantic genre and his ardent fans are more than just excited to see if he establishes himself in this category as well. Going by the trailer, Manmarziyaan is an intense love triangle between Rumi (Taapsee Pannu), Vicky (Vicky Kaushal) and Robbie (Abhishek Bachchan). Fed up of her lover's irresponsible attitude, she gets married to a calm and level-headed Robbie. She gradually falls in love with her husband, however, her past turns up the haunt the newly married couple.
The critic reviews for Manmarziyaan are rave, for sure. Our film critic has rated it 3 out of five stars, describing the Anurag Kashyap-directorial as imperfectly perfect and a must-watch film. The film has also received positive response at Toroto International Film Festival 2018, where it premiered in the presence of Anurag Kashyap and the entire cast.
However, before you book the tickets to Manmarziyaan, here are few tweets you would like to see.
Who would've imagined @anuragkashyap72 making a romantic movie? But what a love story #ManmarziyaanInCinema is indeed. While the cast has done a brilliant job, it's @ItsAmitTrivedi's music that has weaved magic. ❤ @juniorbachchan @taapsee @vickykaushal09 @ErosNow pic.twitter.com/i1YvTMRQ13

— Amol (@Ams_NavThar) September 14, 2018
Why don't @anuragkashyap72 not gonna think of directing romance before? Intense performances and brilliant music, #ManmarziyaanInCinema the definition of Love! ❤

— raѕнι🤷 (@SalmansRashi) September 14, 2018
It seemed like an unusual collaboration between @anuragkashyap72 and @juniorbachchan at first but what a collaboration it has been. Loved every small detail about #ManmarziyaanInCinema @taapsee @vickykaushal09 @ErosNow pic.twitter.com/3m09fAcZNB

— Ali Quli Mirza (@AliQuliMirzaAQM) September 14, 2018
See romance tadka by @anuragkashyap72 ,work that he never thought of doing before.... Intense performances and brilliant music, #ManmarziyaanInCinema the definition of Love! ❤ pic.twitter.com/j65dNQ4nOY

— tapsee_pannu (@sethsonika___) September 14, 2018
Hey guys Anathor masterpiece by Anurag kashyap, everything about #ManmarziyaanInCinema is so lovely! Right from the cast, the story to the direction! But the music is the soul of the movie. Kudos to @ItsAmitTrivedi! 👍👍👍 pic.twitter.com/HXydlKe7Gy

— Soniyo (@soniyo_ve) September 14, 2018
It's so good to see @juniorbachchan back on screen. I loved how he played the calm and patient Robbie alongside live wires like @taapsee and @vickykaushal09. #ManmarziyaanInCinema now! pic.twitter.com/yNZFAqyas7

— Ravi Kapoor ☯️ (@RaviKapoor) September 14, 2018
Hey everyone When Anurag Kashyap hits the ball out of the park, he has the ability to get it across an ocean and over to another continent..👍👍👍👍👍#ManmarziyaanInCinema pic.twitter.com/OHWz4xsklo

— Roopam Bajpai (@BajpaiRoopam) September 14, 2018
Manmarziyaan Movie Review: Manmarziyaan Movie Review: This Anurag Kashyap film tugs at your heartstrings with its intense love triangle
Manmarziyaan also marks the comeback of Abhishek Bachchan to the silverscreen after the sabbatical of two years. He was last seen in Housefull 3 along with Akshay Kumar, Riteish Deshmukh. The story of this romantic drama has been penned by Kanika Dhillon, who has previously penned the screenplay for Ra.One and Telugu film Size Zero. 
Meanwhile, watch Manmarziyaan trailer.