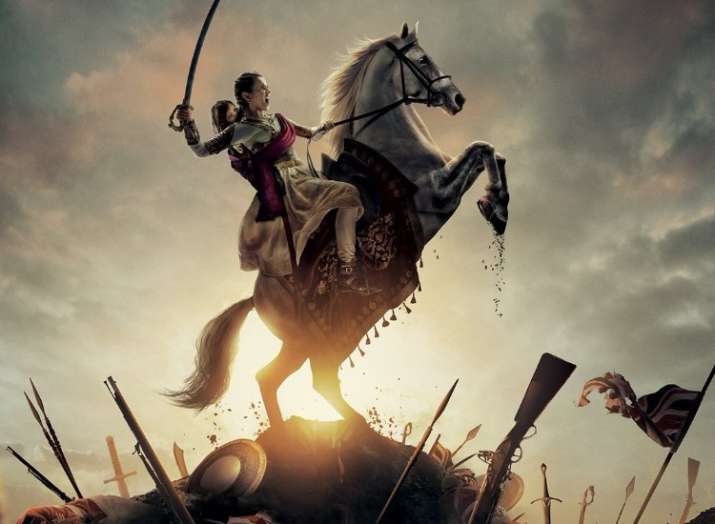 Kangana Ranaut starrer Manikarnika: The Queen Of Jhansi opened to great reviews by the audience. The film which chronicles the story of freedom struggle led by the bravest woman of Indian history, Rani Laxmi Bai. In the film Kangana plays the role of Jhansi Ki Rani and Ankita Lokhande plays her support Jhal Kari Bai. The film managed to impress the audience after the release of the trailer of the film and created quite a buzz among them. Ever since the announcement of the film, Manikarnika was surrounded by a pool of controversies from actors like Sonu Sood leaving the film to the script credits and threats from the Karni Sena. However, the makers overcame everything, and the film has hit the screens today. The dedicated fans have already booked their first day first show. 
Here are the Audience and Celeb reactions-
11:00 am- Audience is spell-bound with Ankita Lokhnade's performance
First half over and Kangana's direction beyond words, classy romance they showed @Jisshusengupta incredible outstanding performance @anky1912 power pack performance #ManikarnikaReview #Manikarnika @KanganaFanClub @ManikarnikaFilm @Rangoli_A tell her so proud of her

— ارزي (@singhr07) January 25, 2019
​
Would love to have seen more of @anky1912 in #manikarnika.
Was fab in the dramatic scenes and rocked the dhankila song

— SunnySideUp (@Shrek1238) January 25, 2019
10:50 am- 
People start clapping in the hall for Kangana Ranaut aka Rani Laxmibai! #ManikarnikaTheQueenOfJhansi #Manikarnika

— Divyanshi Sharma (@ShDivyanshi) January 25, 2019
10:40 am- Not just Kangana Ranaut but other actors are also attracting good reviews for their performances in the film.
@Mdzeeshanayyub what a performance sirji ,intense ,nailed it #ManikarnikaReview #Manikarnika must watch @KanganaFanClub @ManikarnikaFilm @KamalJain_TheKJ

— ارزي (@singhr07) January 25, 2019
#manikarnika take a bow kangna. Better than everything. Just wondered who the hell gave such ratings @ndtv tum bhut bde Vale ho. Just like uri crossed 100 it will also do the max business

— आत्मनिर्भर अपरिचित (@dhirusingh9759) January 25, 2019
10:30 am- Bollywood singer Neeti Mohan also showered praise on the film as well as her fiance Nihar Pandey.
What a cool picture @iNihaar 😍 But whats even better to know is the journey and experience of reaching here and mark your debut in #Manikarnika The world sends you love and good wishes 😇 https://t.co/PmD9CDan6q

— Neeti Mohan (@neetimohan18) January 25, 2019
10:20 am- On the other hand, many people had mixed reviews for the film.
10:10 am-  The first half of the movie has already impressed the masses.
#Manikarnika 1st Half =

M*I*N*D*B*L*O*W*I*N*G #KanganaRanaut The Real QUEEN #ManikarnikaReview

— Rohitt Jaiswal (@rohitjswl01) January 25, 2019
Oh my god !!!!!!!! Just finished watching the first half of the movie. I got goosebumps already !!!!!!!! Can't wait for the climax! #KanganaRanaut you heavenly beauty !!#Manikarnika #ManikarnikaTheQueenOfJhansi #ManikarnikaReview @ManikarnikaFilm

— Yash Agarwal (@yashlovedrashti) January 25, 2019
10:00 am - 
#ManikarnikaReview: Power that will bring tears in your eyes. #KanganaRanaut has made a classic. She roars in every frame. Experience true Woman Empowerment in the theatres. War sequences will blow your mind.
Rating: ⭐️⭐️⭐️⭐️#Manikarnika #RaniLakshmiBai pic.twitter.com/iNNZ6UrXaw

— anwesh panda (@anwesh_panda) January 25, 2019
09:50 am- RGV, Sadhguru and other celebs laud Kangana Ranaut's performance in Manikarnika: The Queen Of Jhansi
In a repeat of history,like the Rani of Jhansi herself, Kangana seems to be all set to conquer the box office 👍👍👍💪💪💪💐💐💐 pic.twitter.com/LxCqvfNMTH

— Ram Gopal Varma (@RGVzoomin) January 24, 2019
#Manikarnika epitomizes valour, commitment & passion of an Indian woman who left a mark on the nation's history & its struggle for freedom. This wonderful work of Indian cinema instills immense national pride. Congratulations. -Sg @KanganaFanClub @prasoonjoshi_ pic.twitter.com/EuumhqPxgW

— Sadhguru (@SadhguruJV) January 21, 2019
09:40 am- 
Television actress Ankita Lokhande makes her entry as Jhalkaribai. #Manikarnika #ManikarnikaTheQueenOfJhansi

— Divyanshi Sharma (@ShDivyanshi) January 25, 2019
FDFS watching #Manikarnika

"Bundele harbolon ke munh humney suni kahani thi khoon laadi mardani wo to Jhansi wali Rani thi" #ManikarnikaReview @ManikarnikaFilm

— ارزي (@singhr07) January 25, 2019
09:30 am- 
#Manikarnika Just saw the movie in UAE. Its really superb and mindblowing. One of the best performance by Kangna. Action scenes and emotional sequences are shot sooo beautifully. Highly RECOMMENDED !!!!!!!!!!!

— James (@James61002327) January 24, 2019
Veteran Actor Manoj 'Bharat' Kumar states #KanganaRanaut was Born to play Rani Laxmibai .
All praise for @ManikarnikaFilm !!!
This is Huge! Coming from Mr. Bharat himself. 🙂🙂🙂#Manikarnika #ManikarnikaTheQueenofJhansi @ZeeStudios_ @prasoonjoshi_ pic.twitter.com/osXdYOOF0f

— Team Kangana Ranaut (@KanganaTeam) January 23, 2019
#Manikarnika is like a breath of fresh air for Jhansi. #ManikarnikaTheQueenOfJhansi

— Divyanshi Sharma (@ShDivyanshi) January 25, 2019