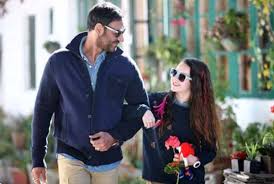 With just few days to go for 'Shivaay' to hits theatres, director and lead star of the flick Ajay Devgn has launched a new trailer that shows completely new side, both of actor's personality and of the movie. 
While the first trailer was high on action sequences, splendid locations and an appealing story line, the second trailer is all about beautiful relationship shared between a father and daughter and has more of an emotional side. 
This brand new 2.47-minute trailer of 'Shivaay' has been receiving a great response worldwide. The trailer also gives us a glimpse into actress Sayyeshaa's character, who is the the grand-niece of legendary actor Dilip Kumar. 
It is believed that in the movie, Sayyeshaa's character will join Ajay's character in his mission to save his daughter from masked men. As the plot suggests, this trailer, with his lasting soundtrack and amazing background narrations, shows how a simple living man transforms into a 'destroyer' to save his loved ones.
'Shivaay' is Ajay's home production and be his second directorial venture. Ajay , who is well known for his breathtaking performances is a two time National Award winner.
Starring Ajay Devgn, Sayyeshaa, Erika Kaar, Abigail Eames in leading role, 'Shivaay' is set to release on October 28th to cash on Diwali weekend.
Check out the second trailer of the film here: