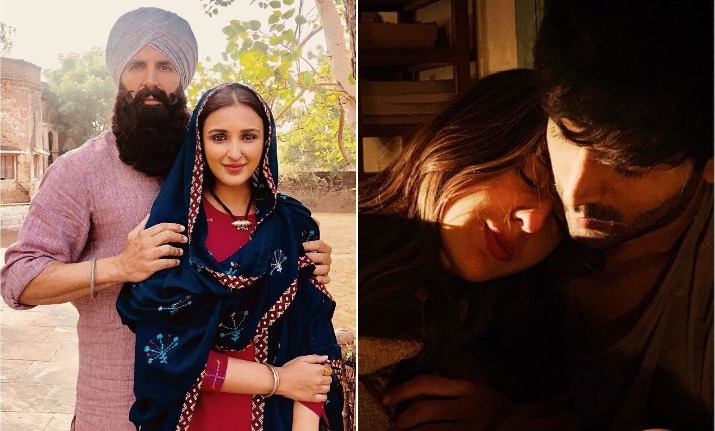 Finally the cat is out of the bag. After dismissing the rumours of working together in Imtiaz Ali's next, Sara Ali Khan and Kartik Aaryan have dropped the first look of their upcoming film. They are indeed working together in an Imtiaz Ali film but it's not yet confirmed if the title is Love Aaj Kal 2. The picture is going viral on the internet. Also, Bollywood is celebrating Holi with a lot of zeal and fervour. Many Bollywood celebrities have extended best wishes on Holi on their social media accounts. Late night on Wednesday, the trailer of political biographical film PM Narendra Modi has been unveiled by the team including Vivek Oberoi and others. The film is slated to release on April 5. 
Latest Bollywood News March 21
Happy Holi 2019: Akshay Kumar, Hrithik Roshan, Amitabh Bachchan extend best wishes on social media
This year's first festival Holi is here. Just like previous years, Holi is being celebrated with lots of colours and joy this year as well. This year, Holi is even more special as Akshay Kumar has released his war-drama Kesari in theatres. So everybody has their evening plans sorted today. From the morning itself, wishes and greetings started pouring in on the social media from Bollywood celebrities. Every celebrity including Karan Johar, Akshay Kumar, Hrithik Roshan, Sanya Malhotra, Emraan Hashmi and others have taken to social media to wish their fans on Holi.
Read Full Story Here 
PM Narendra Modi trailer out: Vivek Oberoi takes us through different episodes of PM Modi's life
After a long wait and grand launch event, the trailer of PM Narendra Modi biopic has been launched on Wednesday by director Omung Kumar and the star cast of the film including Vivek Oberoi. Omung Kumar, who is known for making films like Mary Kom and Sarabjit, has directed the biopic, which is now being release on April 5. In the trailer, Vivek Oberoi has slipped into PM Narendra Modi's shoes and took us through the different chapter of the current Prime Minister's eventful life. It shows how PM Modi rose from nothing and became one of the most powerful political leaders of the world.
Read Full Story Here 
Confirmed! Sara Ali Khan and Kartik Aaryan to star in Imtiaz Ali's next, see first look
Putting all Love Aaj Kal 2 speculations to an end, Sara Ali Khan has now confirmed that she and Kartik Aaryan are indeed doing a movie with Imtiaz Ali on the director's seat. The actress, who wowed us with her performance in Kedarnath and Simba , took to Instagram and shared a beautiful, intimate photo of herself and Kartik Aaryan announcing their new movie. Her confirmation comes after a slew of photos and videos featuring the duo kissing, riding on the streets of New Delhi and more hit the internet. All this while, their movie was deemed as Love Aaj Kal 2. However, Sara Ali Khan has now confirmed that the movie is yet to be titled.
Read Full Story Here 
Ranbir Kapoor lauds Brahmastra co-star Amitabh Bachchan, says he treats him like family​
Actor Ranbir Kapoor says his "Brahmastra" co-star Amitabh Bachchan is always extra sweet towards him because he treats him like family. Amitabh has collaborated with Ranbir for the first time. The cine icon recently praised Ranbir in an interview by saying that "His face is God's blessing. He doesn't seem to make any effort to convey emotions whereas I've to constantly struggle to express myself and ask the director to help me."​
Read Full Story Here