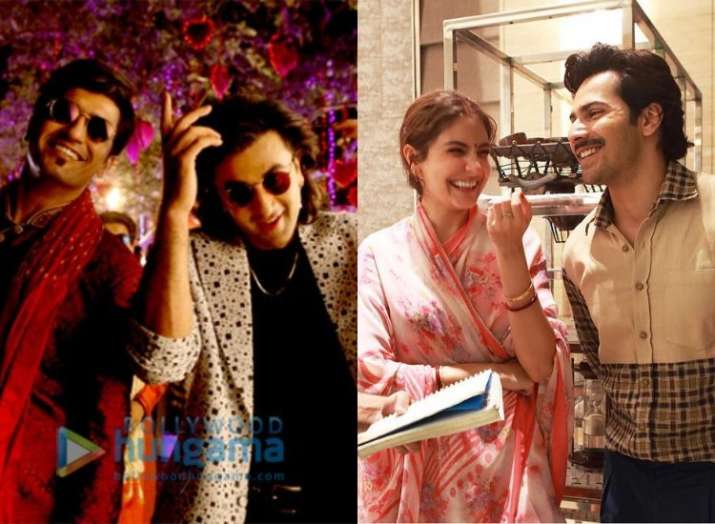 It has been just four days since the release of Sanju and Bollywood box office is raining numbers. The movie has broken many existing records in the opening weekend itself and it is expected to become the biggest film of 2018 soon. On the other hand, Anushka Sharma and Varun Dhawan have wrapped up their upcoming film Sui Dhaaga and are ready to present it to the audience in September. Aren't you excited to meet Mauji and Mamta? Well, Bollywood has much more to offer. So here's everything that's on our trending radar today in the entertainment news. For more latest Bollywood news, catch up with the space below.
Sanju: Here are all the records Ranbir Kapoor's film has broken so far
At the end of day 3, Ranbir Kapoor starrer Sanju has already written its name in golden letters by minting Rs. 120 crores. The film has flooded the box office with numbers and has defeated all the big films that released earlier this year. The Sanjay Dutt biopic has become the highest opener with Rs. 34.75cr, leaving behind Salman Khan's Race 3 and Deepika-Ranveer's Padmaavat. It is also the film with highest second-day numbers. It minted Rs 38.06 crores on Day 2 of its release. Unbelievable? Yes, it is! 
In fact, it has the highest numbers on Day 3 as well. With Rs 46.71 crore on a single day (Day 3),  Ranbir Kapoor's film stands tall amid all the existing records. This takes its total collection to a jaw-dropping Rs 120.06 crore.
And it's a wrap! Anushka Sharma, Varun Dhawan wind up shooting for Sui Dhaaga
Bollywood actors Anushka Sharma and Varun Dhawan are all set for their next release, 'Sui Dhaga- Made In India' as the actors wrapped up shooting for the film today.
Taking to Twitter, Anushka uploaded a candid picture of co-star Varun, director Sharat Kataria and herself. She captioned the image as, "A truly special film by a truly special story-teller, #SharatKataria.. Mauji and Mamta are coming to tell their story on Sept 28 at a theatre near you.. @SuiDhaagaFilm @Varun_dvn #ShootWrap."
'Sui - Made In India' is based on the stories of self-reliance and high spirits of the two central characters, Mamta and Mauji, rooted in an earthy town of India. It is made on the lines of Mahatma Gandhi's ideology of Make In India, an initiative, which the government of India is also championing. Directed by Sharat Katariya, the movie will hit the theatres on September 28.
(Also read: Varun Dhawan goes to a local barber to get the 'mauji' look for the film. Watch video)
Smriti Irani shares pic of Shah Rukh Khan and husband Zubin with hilarious caption
Union Minister Smriti Irani took to her Instagram account to share a photo of Bollywood superstar Shah Rukh Khan with husband Zubin Irani. The photograph seemed to be taken at the star-studded engagement party of Shloka Mehta and Akash Ambani. 
The photograph is a pretty candid click of the two men involved in some deep conversation, but it was Smriti's caption that is winning the internet. The caption of the post reads, "#and they say only women gossip @iamzfi @iamsrk"
As soon as the photograph went up, the social media couldn't help but began showering laughing emojis on the post. "Chatter box", "When friends get together after days or months", "Hahaha. nice caption ma'am" were some of the comments on the post.
Delhi court orders FIR against Mithun Chakraborty's wife Yogeeta Bali, son Mahaakshay in rape, cheating case: Reports
A Delhi court ordered registration of FIR against Bollywood actor Mithun Chakraborty's wife Yogeeta Bali and son Mahaakshay on charges of rape, cheating and causing miscarriage without consent. The order to file the FIR was given by Rohini court.
Delhi: Rohini Court orders registration of FIR against actor Mithun Chakraborty's wife Yogeeta Bali and son Mahaakshay on charges of rape, cheating and causing miscarriage without consent.

— ANI (@ANI) July 2, 2018
An actress, who has worked in Hindi and Bhojpuri films, filed a complaint before the court stating that she had been in a relationship with Mahakshay since 2015. She also stated that he had made a physical relationship with her after promising to marry her.
The Court following the complaint ordered an FIR for rape, cheating and causing miscarriage without consent against Yogita Bali and Mahakshay.