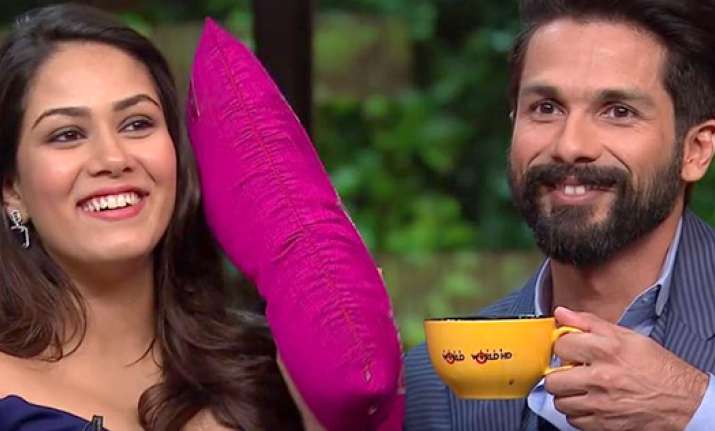 For the first time, actor Shahid Kapoor will be introducing his darling wife Mira Rajput to the small screen on the popular show 'Koffee With Karan' (KWK). While the sneak peek to the episode showed the much in love couple talking about their exes, but do you know Shahid is still after Mira's ex-lover? Yes, he made this revelation on the show.
On being quizzed by ace director Karan Johar about Mira's past love life, 'jealous' Shahid intervened and said that almost everyone would have seen Mira's picture with his boyfriend as it went viral.
The 35-year-old actor even said that he is 'still discovering the guy who appeared with his Mira in the photo'.
Without any hesitation, Shahid confidently said that 'if he ever found him, the man won't be able to play Photoshop with anybody's pictures'.
This sweet gesture by the actor will surely make Mira, the most envied woman of the country.
If you are not aware about the image, then let us take you the time when Shahid and Mira took nuptial vows. Many photoshopped pictures of Mira with a guy surfaced on social networking sites. And, speculations about the lady's love affair with the person took the Tinsel town by storm.
But, love is all about trust. Rumours couldn't stop both of them from getting hitched. Now they are happily married, head over heels in love with each other and proud parents of a lovely daughter Misha.
The 'Koffee With Karan' episode featuring the couple will be aired on New Year.