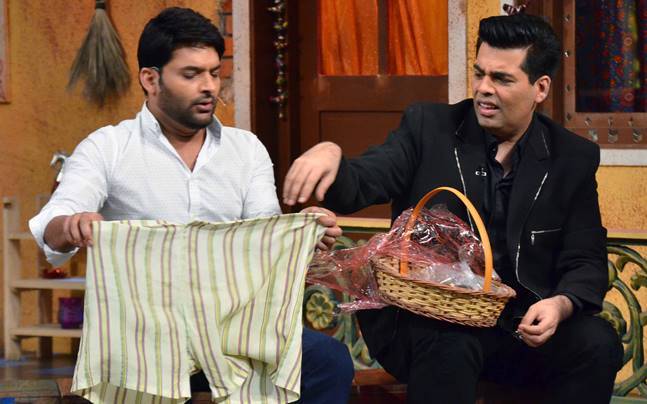 Comedian and actor Kapil Sharma will appear on the fifth season of the candid chat show 'Koffee With Karan'. The known face of Indian television tweeted a picture from the sets on Tuesday and thanked the filmmaker for having him on the show.
While we are sure that Kapil will entertain fans with his answers filled with candour, his first appearance on the show means something else too. For long, the coffee couch has been graced by the crème layer of the Hindi film industry, and Kapil sitting on it means he has become a member of it.
Most of the guests who have appeared over the previous seasons were either close friends of KJo, a favourite of Dharma productions, star kids or the likes of that. But Kapil falls in none of these categories. Neither did he get his big Bollywood break through Dharma, nor did he have a Godfather in film industry.
It should also be noted that the guests who have appeared on the show are verbose and speak fluent English. The host for that matter, Karan Johar, too is a sophisticated personality of film industry.
But Kapil, is far from it. By his own admission, he speaks crappy English. He is a reflection of the typical Indian middle class where making fun of family members is a common notion.
So Kapil's arrival coming on the show tells a lot about his position in the sky full of Bollywood stars.
Thank u @karanjohar sir for inviting me on ur lovely show #koffeewithkaran n for so many beautiful gifts .. pic.twitter.com/PRtIzBEhJD

— KAPIL (@KapilSharmaK9) November 22, 2016
Also, for long viewers have seen Kapil Sharma asking celebrities questions on his show so it would be nice to see how he replies to the grilling queries of Karan Johar.
Meanwhile, Kapil Sharma has reportedly signed his second movie where he will romance actresses Tamanaah Bhatia and Ishita Dutta. The movie is said to be titled 'Firangi'.