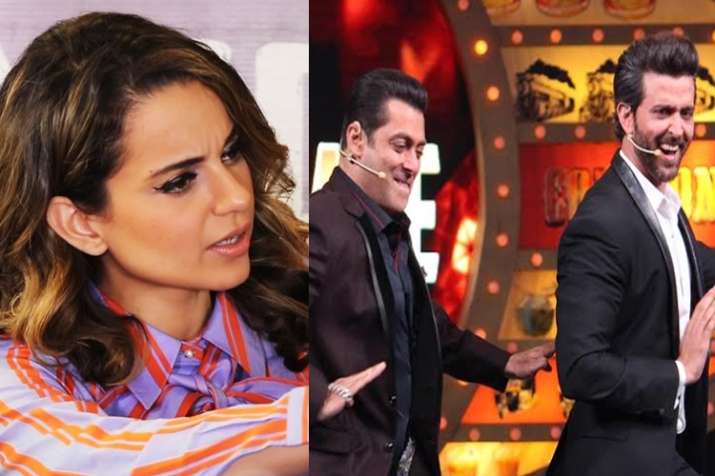 Actress Kangana Ranaut and Hrithik Roshan fiasco has gathered everybody's attention. With new twist and turns, the fight between the two stars is getting uglier with each passing day. The whole controversy is now being viewed under a new light after the actor broke his silence and shared his plight on National TV. Earlier, it was reported that Kangana talked about Deepika Padukone and Ranbir Kapoor in the set of leaked emails and now, Salman Khan's name is the new addition to the list.
According to an online portal, the Queen actress talked about her encounter with Salman in the emails that she exchanged with Hrithik. She called the superstar weird and narrated the incident when she said no to his film Bajrangi Bhaijaan. She elaborated that Salman told her that Bajrangi Bhaijaan can make her career. As per reports on Spotboye and Mid.Day, the actress wrote, "My jaw dropped. Is he crazy? Kareena's role in Bajrangi Bhaijaan will make my career? Which world does he live in? Which of his heroine's career is made?
In the mails, the lady also wrote that people love her because she has not worked with the actor. She added that once Salman asked her to look at Katrina, who is a perfect actress material as she is good looking and keeps her mouth shut.
Kangana wrote, "He used to make fun of me. Once he told me, why do you act so much? People like you end up nowhere. Look at Katrina, she is the perfect actress material; looks good and keeps her mouth shut."
In her email, the actress wrote that she made it clear to Salman that she doesn't want to become Katrina which angered the actor. After that they didn't meet for two years. However, the actress revealed that after Queen's success, Salman was trying to talk to him. Well, this is another shocking revelation.
With so much happening in the case, it is hard to decide who is right?