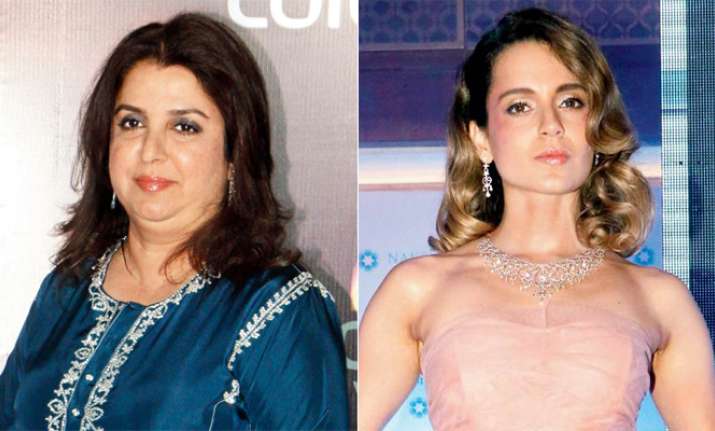 When Kangana Ranaut appeared on Rajat Sharma's Aap Ki Adalat, everyone was taken by a huge storm. The Queen actress made some shocking revelations about several Bollywood biggies such as Hrithik Roshan and Karan Johar. Known for her upbeat and unapologetic nature, she spilled beans about her affair with her Krrish 3 co-star Hrithik and accused him of giving her sleepless nights. The Kangana Ranaut Vs Hrithik Roshan controversy has become huge and several celebs from the film industry have come forward to express their views. After Aditya Pancholi, Apurva Asrani and Sona Mohapatra, it is choreographer-turned-director Farah Khan who has reacted on the issue.
Farah Khan said that the Queen actress is playing a woman card. She said for her feminism meant equality and if a man would have made statements like Kangana he would have faced the wrath of the society. 
When asked about her views on Kangana's recent interview, Farah said in a media interaction, "I don't want to take anyone's name, I don't want to get caught in between. But every time you are playing a woman's card. For me feminism is equality. 
"In such a scenario a man should put himself in a woman's shoes and vice versa and then it becomes easy to understand each other. One should deal with such matters carefully." 
The "Happy New Year" director said both men and women should receive same treatment and judgement should not be made on the basis of gender. 
"Just imagine if a man had said something like a woman, what would have happened. If a man had sent a picture or said anything like this, that man's life would have become hell or he might have been taken to the jail. If such things are not acceptable for a man, why it should be for woman?" she added. 
In a recent appearance on TV talk show "Aap Ki Adalat", Kangana had said that Hrithik should apologise to her publicly for causing her trauma after their alleged relationship ended. 
The actor also said her recent comment on her Krrish 3 co-star was not a "promotional" gimmick, and she would continue to talk about him and their public feud whenever she is asked about it.
On the professional front, Kangana Ranaut will be seen in Hansal Mehta's fil Simran, which will hit the cinemas on September 15.
(With PTI Inputs)
For more entertainment news and updates, follow our Facebook page