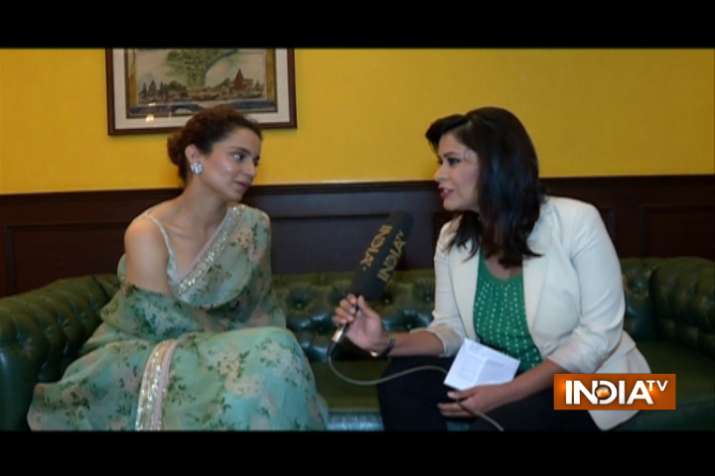 Bollywood's reigning Queen Kangana Ranaut took everyone by sheer surprise when she featured on All India Bakchod or AIB's video titled The Bollywood Diva song. Now, the actress has poured her heart out on being tagged as the voice of feminism in the Hindi film industry. In an exclusive interview with India TV, the actress revealed that she was unaware about such tag that the people have bestowed upon her. The 30-year-old actress, who is all set to sizzle the big screens on September 15 with Simran, shared her thoughts on feminism like a true diva.
"I never thought of being tagged as the voice of feminism in Bollywood. However, my films such as Queen does have a strong message of feminism, which wasn't intentional but then it just happened", Kangana Ranaut said.
Furthermore, the Rangoon actress added, "Since my childhood, I have always been drawn to equality and by equality I don't mean equality between a man and a woman but equality as a whole".
Watch the exclusive interview right here
Meanwhile, Kangana's sister Rangoli Chadel has been on a raging Twitter war against Aditya Pancholi, Zarina Wahab, Sona Mohapatra. Speaking about the same, Kangana Ranaut in an interview with Indian express said, "We are very excited, she (Rangoli, Kangana's sister) had a terrible time before, as she had a miscarriage, she had a terrible time. But now she is very happy and very hormonal. So I ask her to not tweet please, but she keeps on tweeting very impulsive things, and I am like, can you please not do that? So, we are very happy, and the baby comes in November first week. We are looking forward to it."
On the professional front, Kangana Ranaut will be seen next in the film Simran, which is being directed by Hansal Mehta. The movie is all set to release on September 15.
For more entertainment news and updates, follow our Facebook page