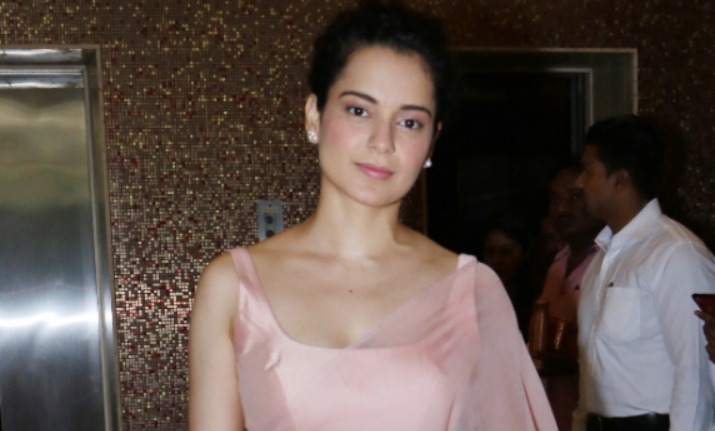 Kangana Ranaut is all set to play Late Tamil Nadu CM Jayalalitha in her biopic Thalaivi, which will be helmed by Vijay. On her birthday, the big news was announced by none other than the makers of the political biography. Kangana Ranaut celebrated her birthday with the media persons and cut the cake with him. While interacting with the media, the Manikarnika actress put forward her views on her signing a political biopic.
Talking about the biopic Thalaivi, Kangana Ranaut said, "I always wanted to do regional films. When we go to Tamil Nadu or Andhra Pradesh, they mainly watch only South cinema. There is a lot of disconnect with that part of the country. So, I always wanted to get a good opportunity to do work there. This just came my way. I was planning to make my own biopic. The work was going on but Jayalalithaa's story is very similar and a far bigger success story than mine. When I heard the narration, I found it so similar (to her own biopic). We will be doing the film mainly in Tamil. It will be released in Hindi as well. I will learn Tamil."
Kangana Ranaut, who has already won three National Awards in her career, is now certain that she will win another for her performance in Manikarnika: The Queen of Jhansi.
"If I don't get the next National Award for Manikarnika, then the credibility of the National Awards will be questionable. If someone does better than this, then I will be objective enough to say 'no, I don't deserve it as the other person has done better.' I think Tabu was fabulous in Andhadhun last year, and next year it will be a revelation if there is a better performance than Manikarnika. But I don't think there will be one," said Kangana Ranaut.
Kangana Ranaut, who has always been vocal about her political views, advised her fans to participate in politics and also urged them to vote in the upcoming Lok Sabha Polls. She said, "It is very important to vote. We only always complain and crib about things but we never demand. The politicians are the doers and we need to tell them what we want. So, we should voice our opinions and actively vote. By doing so, we are giving a direction to our country because that responsibility lies on our shoulders."