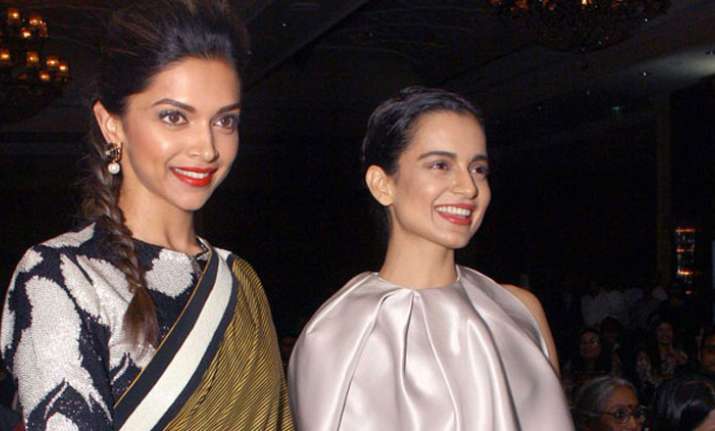 Bollywood beauty Deepika Padukone is facing serious threats by several outfits for her portrayal of Rani Padmini in Sanjay Leela Bhansali's Padmavati. Many from film fraternity have extended their support calling protests against the film a measure to curb creativity. Critically acclaimed actress, Shabana Azmi who has always been vocal about women's rights came forward and spearheaded a letter campaign. The letter has been reportedly signed by big names of Bollywood like Anushka Sharma, Jaya Bachchan, Aishwarya Rai Bachchan, Vidya Balan, etc and will be send to PM Narendra Modi. The motive of this signature campaign is to ask PM to take action against threats made to Deepika.
Reports said that when the letter reached the very outspoken Kangana Ranaut, the bombshell blatantly refused to sign. This created quite a buzz as Kangana and Deepika share history of friction, however, the actress  in a statement revealed the exact reason behind her refusal. She said that Deepika has all her support  but she is wary of Shabana Azmi who character assassinated her when she being bullied during her controversy with Hrithik Roshan. A statement on behalf of the Queen actress blames Shabana Azmi for her refusal to sign.
It reads, ''"I was filming Manikarnika in Jodhpur, got a call from my dear friend Anushka Sharma to sign the petition written by Ms Shabana Azmi, I explained to Anushka that Deepika Padukone has all my support but I am a bit wary of Shabana Azmi's investment in left wing vs right wing politics. I have my own set of ideas and opinions about the current situation in our country, I am on the fence about many things and being a part of a feminist movement called 'Deepika bachao' lead by someone who character assassinated me when I was bullied, seems to be one of them. Anushka understood but I am glad they reached out to me, like I said Deepika has all my support I am an individual perfectly capable of supporting who I like without anyone's support.''
Kangana is not the only actress who has not signed the letter. Even Alia Bhatt, Katrina Kaif have not signed. However, it is not clear whether they were asked to sign or not. 
For more entertainment news, keep watching this space.