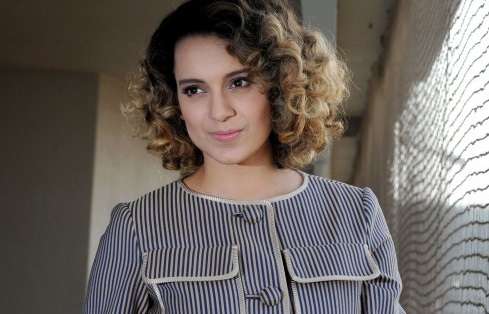 Kangana Ranaut, who is also hailed as the controversy queen of Bollywood, is back in the news for making shocking remarks on Hrithik Roshan. The actress has been in the news for quite a while for alleged affair and fallout with Bollywood actor Hrithik. Although, the legal battle between the duo has subsided, the old graves are dug again by Kangana Ranaut on the popular TV show Aap Ki Adalat on Saturday. She spoke volumes about her ex-flame Hrithik Roshan and many other prominent faces of industry. Kangana also demanded an apology from Hrithik and his father. When asked about it, she says it has nothing to do with publicity stunts and she has answers to all the questions. 
Asked if she is talking about the controversy to grab more eyeballs before the release of her film "Simran", Kangana said: "If I am giving interviews while shooting films, people would say I am giving too much about my life; if I am doing interviews before releasing a film and expressing my opinion, people would say I am seeking attention, so what to do? How to live?"
Watch: Nobody helped me during my controversy with Hrithik Roshan, alleges Kangana Ranaut
"I have answers to all questions, if you ask me, I will answer them. People also asked me about Aditya Pancholi, regarding an incident that happened when I was just 16, now I am 30! If my answers trouble so many people, then don't invite me for an interview, don't ask me such questions," she added. 
Issues between the two began when Kangana hinted at Hrithik being her "ex-boyfriend" when she said in an interview that she fails to understand "why exes do silly things to get your attention". The actress lodged a legal complaint against Hrithik for "misusing" the confidential emails and photographs of the time when they were together.
Also Read: Hrithik Roshan and his father must apologize for maligning me in public, angry Kangana Ranaut tells Aap Ki Adalat
Hrithik later filed a complaint with the cyber crime cell, claiming an imposter had been emailing Kangana from a bogus email ID, pretending to be him.
The actress talked about the issue at "Majaa ni life..." song launch of "Simran", which is slated for release on September 15.
Asked about her relationship status and if she is single or living with "it's complicated" phase, she replied" "Yes something like that."
Kangana Ranaut will be seen in Hansal Mehta's Simran, where she's playing the lead role of a Gujrati housemaid in US. Her life takes a formidable turn when she finds herself stuck in the world of crimes. Sohan Shah, Esha Tiwari Pande and Manu Narayan will also be seen alongside Kangana in the film. Simran is slated to release on 15th September. 
(With IANS Inputs) 
For more entertainment news and updates, follow our Facebook page