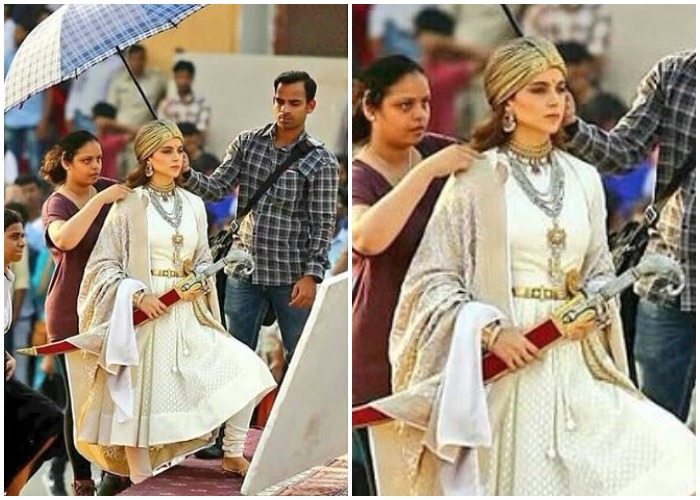 Kangana Ranaut who is busy shooting for her upcoming film Manikarnika-The Queen of Jhansi has really stepped into the shoes of the valiant Indian queen. She has learned the swordfight to add the genuine touch to her fight scenes in the film. The makers of the film has clarified that it is not a biopic but still it seems like Manikarnika will have to face the fate of Sanjay Leela Bhansali's Padmaavat.
A fringe group Sarva Brahmin Mahasabha has alleged the makers of distorting the historical facts in their movie. They claim that there are love scenes between Rani of Jhansi and a British man. The Mahasabha's state president Suresh Mishra asked the Rajasthan government on Monday to stop the film's shoot with immediate effect to prevent historical facts being twisted in the Rani Laxmibai biopic.
At a press conference, the outfit proposed that Manikarnika will be allowed to release only after the filmmakers give a disclaimer that no controversial scene between Rani of Jhansi and a British man would be depicted in the movie. They also added that if the state government didn't comply with their demands within three days, they would stage protests.
"We will meet Rajasthan Governor Kalyan Singh and Rajasthan home minister Gulab Chand Kataria seeking their intervention." Suresh Mishra said.
MBS founder Suresh Mishra told Indian Express, "We learnt about it from our friends and acquaintances in various parts of Rajasthan where some scenes of the film are being shot. The film is based on a foreigner's book and tries to dampen the queen's reputation."
Manikarni: The Queen of Jhansi is scheduled to release at the end of this year.