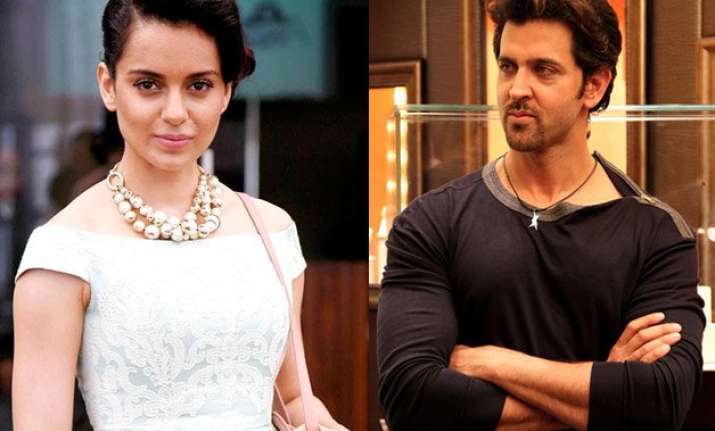 New Delhi: Bollywood actress Kangana Ranaut is quite popular for her cold wars in the B-town. The diva is often spotted taking a dig at her colleagues for one or the other reason.
In fact, her war of words with Deepika Padukone did gain a lot of attention and provided 'masala' to the gossipmongers.
However, little did she know that one of her ongoing cold wars would land her in a legal trouble.
We are talking about her rivalry with 'Krrish' actor Hrithik Roshan. While Kangana and Hrithik, who were once reported to be dating each other, have now turned into arch-enemies.
It's been a while that Hrithik and Kangana can't stand each other at all and their war of words did make to the headlines.
And as per the recent buzz, their fight has now taken a legal turn as the 'Bang Bang' actor has reportedly sent a legal notice to Kangana.
According to the media reports, in the legal notice, Hrithik has accused Kangana of defamation and has asked the actress to issue an apology else he would make all her correspondence to him public.
While everyone was wondering how the 'Raaz 2' actress will react to the legal notice, Kangana Ranaut, stunned everyone after she too sent a legal notice to Hrithik Roshan.
In a 21 page legal notice, Kangana has charged Hrithik of intimidation and threat. The actress has also stated that since she hasn't taken any name in her statement, how can it be termed as defamation.
In fact, she has also given a time of 5 days to Hrithik to revert, which the actor has yet not done.
Apparently, it all began when reports about Hrithik getting Kangana ousted from 'Aashiqui 3' did the rounds to which the 'Queen' actress had replied, "Yes, many lame rumours are doing the rounds, even a dumbass can tell where these rumours are coming from. I don't know why exes do silly things to get your attention. For me, that chapter is over and I don't dig graves."
Though, her statement didn't go down well with Hrithik and he immediately lashed out at her with a tweet saying, "There are more chances of me having an affair with d Pope dan any of d (Im sure wonderful) women d media hs ben naming. Thanks but no thanks."
With this rivalry going nasty now, wonder how Hrithik Roshan will defend himself against Kangana Ranuat's legal notice.