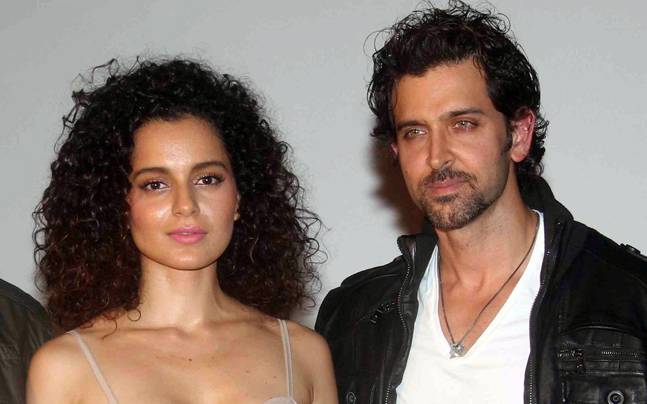 The war between Bollywood stars Kangana Ranaut and Hrithik Roshan is not something that is unknown to many. Earlier this year, the two stars of Bollywood started washing dirty laundry in public with allegations and counter-allegations to each other. Given the hullabaloo surrounding thir 'rumoured' affair; one would want to know what would happen if they bumped into each other.
Well, looks like the 'running into each other' happened. A report in entertainment portal Spotboye.com suggested that Kangana and Hrithik bumped into each other outside Vishal Bhardwaj's office.
Apparently, the 'Queen' of Bollywood was visiting to discuss marketing strategy of her upcoming movie 'Rangoon', helmed by Vishal. After staying there for over an hour, Kangana left as the ace director had another meeting.
Just when Kanagna was exiting the building, Hrithik entered. An onlooker told the  portal, that on seeing each other, the two stars froze for a second. They then ignored each other and Kangana walked towards her car.
Also Read: Kangana says Hrithik would be nowhere if not for his famous parents, calls Priyanka's laugh 'fake'
"On the other hand, Hrithik was too shocked to react so he quickly went back to his car. He entered Vishal's office only after he was sure that Kangana had left the building," added the onlooker.
Well, that went down with less drama than one would have thought.
The fight which has now turned into a war began when Kangana called Hrithik a 'silly-ex'. The 'Krrish' actor took offence and stated he never had any romantic relationship with Kangana. What followed next is now known to all, with Kangana reinstating that they were a couple and Hrithik denying it.