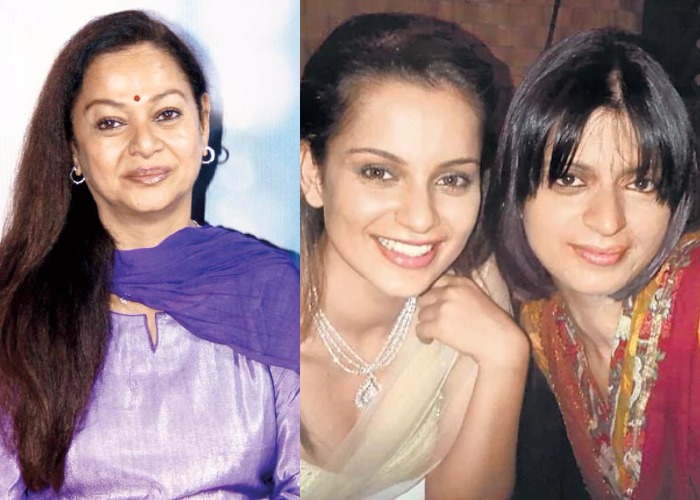 Kangana Ranaut courted controversies due to her interview on Aap Ki Adalat with Rajat Sharma. In the interview, the Simran actress spoke lengths about her past relationships with Hrithik Roshan and also, Aditya Pancholi. Hrithik Roshan's ex-wife Suzanne Khan backed her husband in an Instagram post. Now, Aditya Pancholi's wife Zarina Wahab takes a stand for her husband in an interview with Pinkvilla. In the interview, she refutes every claim that Kangana Ranaut made about her husband Aditya Pancholi. 
Speaking to Pinkvilla, Zarina said, "I was just going through some stories on my mobile and I read Kangana has said 'She (Zarina) used to treat her (Kangana) like a daughter…" This is completely untrue! When I knew she was dating my husband how can I say she's like my daughter? That is ridiculous! Usually, I don't react to such things but these two things have been really upsetting! I was very upset when I read it! She was dating my husband (Aditya) for four-and-a-half-years so how can I say that she's like my daughter? Impossible! On national television, she's going on saying that she's (Kangana) is like my daughter (Sana)… What nonsense is Kangana talking about?"
Zarina also refused Kangana's claims that she came to her for help. She said, "Yeh toh sawaal hi nahi hotahai yaar!  Agar meri husband ko date kar rahi hai, toh merepaas kaise aayegi? Bolnewali ko bhi akkal honichahiye!. I met Kangana a few times because my husband wanted me to take her to meet Sanjay Leela Bhansali so I took her there. First of all, I never discuss my problems with my own sisters so who is she (Kangana) to me that I will go and discuss with her that if he's not coming home I will be happy. What nonsense is she talking about? I should not say anything about her. These things are really bugging me! Mein itni bhi bewakoof nahi hoon to treat her like my daughter! Mein kya aankhon mein patti daal ke duniyaghoomti hoon mein? Sabka life deal karne ke liye alagtareeka hota hai, mera bhi alag hai. I read this on Google alert and I reacted. Otherwise, I am the last person to react."
Reacting on Zarina Wahab's stance on Kangana Ranaut's controversial statements, Rangoli took to Twitter to express her disappointment for Aditya Pancholi and his wife. In a series of tweets, she slammed Zarina Wahab for her statements. 
She tweeted: 
If Kangana mt Pancholi in2005 n lodgd FIRagnst Pncholi in Versva Plice Station in2007 hw cn dey date fr4yrs Zarina g https://t.co/Ytkl9FDkh3

— Rangoli Chandel (@Rangoli_A) September 10, 2017
Sana Pancholi is born in 1985 Kangana Ranaut is brn in 1987 do u hv shame u r a prt of dis exploitation of a grl youngr dan ur own daughter?

— Rangoli Chandel (@Rangoli_A) September 10, 2017
she has pleaded you many times to help bt instead u gave her diamonds and got her dresses frm Bangkok took her to meet Sanjay Leela Bhansali

— Rangoli Chandel (@Rangoli_A) September 10, 2017
Y wud u gift Kangana diamonds and clothes frm Bangkok n request her nt to go to cops if you knew ur husband is dating her as claimed by you?

— Rangoli Chandel (@Rangoli_A) September 10, 2017
.....and you sent regular fish biryani to her house and pleaded her not to go to cops.
Why Zarina ji pls answer ???

— Rangoli Chandel (@Rangoli_A) September 10, 2017
In Aap Ki Adalat, Kangana Ranaut claimed that Aditya Pancholi kept her on a house arrest. When she changed her accommodation, troubled by his manic ways, he sneaked a duplicate key to her apartment. In the interview, Kangana got vocal about her abusive relationship with Aditya Pancholi and how his wife, Zarina Wahab refused to help her. 
On Aap Ki Adalat, Kangana Ranaut took a brave take on Bollywood biggies like Hrithik Roshan, Rakesh Roshan, Karan Johar and certain filmmakers. The episode went on air on 2nd September. Following the interview several Bollywood celebrities had put their stance forward on Kangana-Hrithik controversy. Karan Johar and Hrithik Roshan, on the other hand, kept their mum on the issue. 
Watch the full episode here: 
Kangana Ranaut's elder sister is in her most furious avatar and is in no mood to forgive what they've said against her sister. 
For more entertainment news and updates, follow our Facebook page