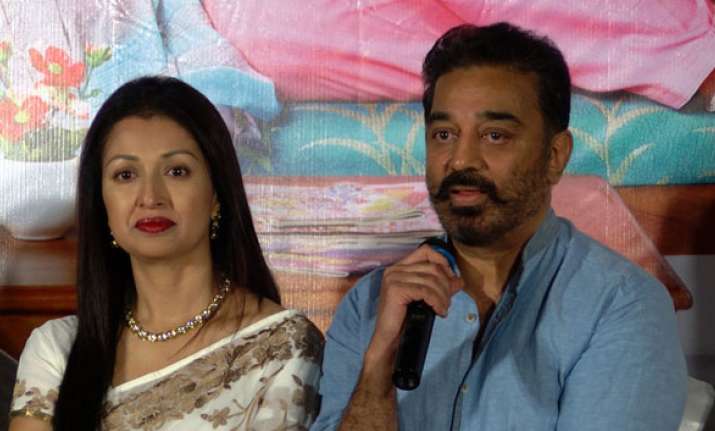 Veteran actor Kamal Haasan has finally spoken up on the split with actress Gautami and said that his feelings hold no importance at this moment.
The couple was staying in live-in relationship before they called off their 13 years long affair. Interestingly, Gautami's daughter from her first marriage Subbulakshmi too was staying with the couple.
Speaking about the break-up, Kamal asserted that he is fine with everything that provides comfort to his ex-partner and her daughter even if it is separation.
"I wish them all the best and want them to know I am there for them whenever they need me", he added.
The 'Dashavatar'  actor also averred that he has three daughter - Shruti, Akshara and Subbulakshmi which makes him the luckiest father in the world.
The news about his split with the actress was announced by Gautami herself in her blog.
Though the actress didn't reveal the reason behind her split with Kamal, she asserted that it was one of toughest decision of her life.
"It is never easy for anyone in a committed relationship to realise that their paths have irreversibly diverged", said Gautami

However, Gautami also emphasised that it took her a long time to accept the truth and that the couple chose to part ways in a matured and sympathetic manner.
Interestingly, this is not the first time Kamal Haasan has faced failed relationship.
The renowned actor was first married to Vani Ganpathi in 1978. However, the two got divorced after a decade of their marriage, post which Kamal went into a relationship with Sarika in 1988.
Kamal and Sarika went for a live-in relationship and even have two daughters -Shruti and Akshara- out of wedlock. Pressurized by the society, the couple got married in early 90s. But the marriage failed and the two got divorced in 2004.
It was also stated that Kamal's illicit affair with Gautmi was one of the reasons behind his separation with Sarika.