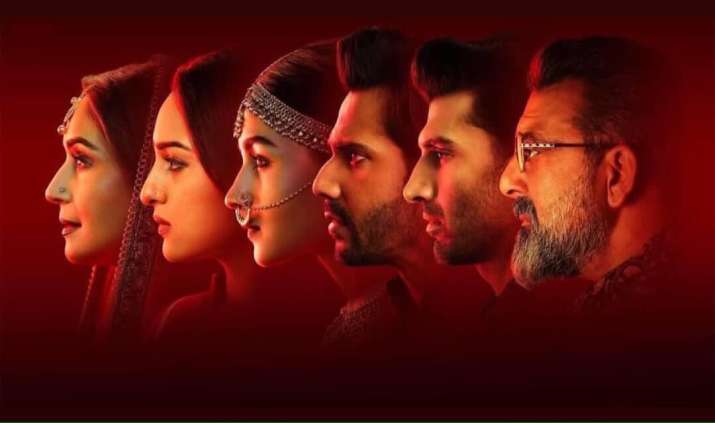 So finally, it's here. The year's most anticipated and big-budget film Kalank has just dropped its teaser on Tuesday and fans are already talking about it. Apart from singing praises for the star cast that includes Alia Bhatt, Varun Dhawan, Sanjay Dutt, Madhuri Dixit, Aditya Roy Kapur and Sonakshi Sinha, cinema lovers have also pointed out numerous similarities between Kalank and signature Sanjay Leela Bhansali films. In no time, people started talking about how this Abhishek Varman directorial and Karan Johar production is a concoction of all the Sanjay Leela Bhansali films we've seen in one feature film.
Here's what Twitter has to say about Kalank teaser
When you copy bajirao padmaavat ramleela hum dil de chuke sanam frame to frame and promise us sonakshi and force on alia with atrocious dialogue delivery the result is this boring #Kalank

— আমার জীবনে সবাই স্বাগত (@AmateurCodernow) March 12, 2019
#Kalank Explained 😆#KalankTeaser pic.twitter.com/3ptu7rY4NT

— Ʀɑɦϋɭ (@Witty_Enuf) March 12, 2019

There were many fans who praised the grandeur of Kalank teaser. 
Whatta wow production design, so so so stunning. Each frame looks like a painting and intensity of the actors in those frames is just icing on the cake...!!! Loved the #KalankTeaser pic.twitter.com/jMmw7NprxD

— Sunnyy Parkhi (@Sunny_parkhi_99) March 12, 2019
​
This scene has great significance!
Alia in white without sindoor..
I think that Adi is the ravaan
Peeche ravaan is burning. I think this is gonna be one of the ending scenes of the film.
Roop and Zafar in one frame ❤ #Kalank#KalankTeaser#KalankTeaserToday pic.twitter.com/AeLY4vMvOc

— Aditi (@aditirox333) March 12, 2019
These visuals are ethereal and grand✨#KalankTeaser pic.twitter.com/nr4X5c8t5E

— bhaswitha♡ (@_bhashu) March 12, 2019
Also, several music lovers are lauding the background score of the film, which sounds intriguing and much going along with the theme of the film. However, there were some thorough listeners who took no time to spot that the background score in Kalank is in fact inspired by several Hollywood masterpieces like Game of Thrones and Captain Marvel.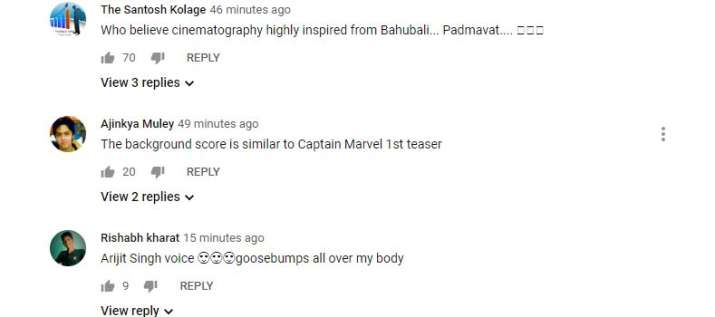 #Kalank BGM sounded like one of the Scores from GOT .
No wonder everyone is liking it :P

— A r n a V (@Being_arnav_) March 12, 2019

Several netizens pointed out the similarities between one of the Game of Thrones scores, which goes by the name Light of the Seven. Also, the opening music also resembles Captain Marvel's background score which was there in its first trailer.
Here are some popular reactions on Kalank teaser
On the other hand, there's a separate population on the internet that's interested in nothing else but memes. As soon as the Kalank teaser was released, memes started doing rounds on the social media. Some of them are really hilarious. Have a look.
#Kalank #KalankTeaser
*My relatives talking about my marriage*
Me~ pic.twitter.com/GCEocld2LE

— _lamest_sarcasm_🇮🇳 (@missmistery17) March 12, 2019
Desi uncles & aunties in small towns burning on the inside when you meet a girl at a public place: #Kalank pic.twitter.com/ePxLQ0skJq

— Swapnil (@thecipherstory) March 12, 2019
Lolol who remembers Om Jai Jagdish? #Kalank pic.twitter.com/fnHuImPYkK

— Shreemi Verma (@shreemiverma) March 11, 2019
#KalankTeaser #Kalank
Engineers: pic.twitter.com/OiljiFvjxs

— Mihir (@HumorouslyMihir) March 12, 2019
What memers say "memes for life" "memes💕"
But deep down we all know :#KalankTeaser pic.twitter.com/2hRXHCudU4

— Aayussshhh 🇮🇳 (@aayucastic) March 12, 2019
Kalank, directed by Abhishek Varman, is an ambitious project being produced by Karan Johar. Earlier, Sridevi was roped in to play the role of Bahaar Begum. However, after her sudden demise, Madhuri Dixit Nene stepped in to complete the project. The film is slated to release on April 17.